Meet Katie Briggs.
Name: Katie Briggs
Hometown: Snyder, NY
Title: Public Relations Manager
Previous Roles: Activation Manager, Public Relations at Eric Mower + Associates; Development and Marketing Coordinator at Buffalo Olmsted Parks Conservancy
Education: B.A. Communication Studies, minor in Art History, Canisius College
Things She Loves: Fall, music, dogs, red wine, the Elmwood Village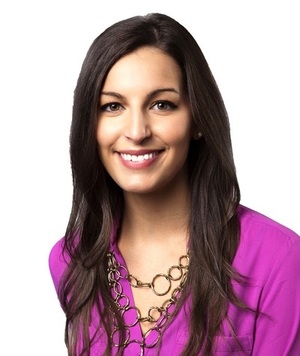 After graduating from Canisius College, Katie took a position at Buffalo Olmsted Parks Conservancy, where she turned a three-month contract position into a full-time marketing role, handling fundraising, special events, newsletter copy and design, and media and stakeholder relations. A few years later another opportunity arose, this time in the agency world. Katie joined the PR team at Eric Mower + Associates where she planned and executed local events and stunts including grand openings, concerts, sampling events, vehicle giveaways and even a flash mob; secured local to national media for new product launches and tourist attractions; and developed relationships with bloggers and online influencers for product trials and reviews.
Now Katie is leading a new initiative: bringing public relations back to Crowley Webb and enabling the agency to offer fully-integrated solutions. In this role, she will provide our clients with both traditional and digital public relations expertise and begin to build a robust public relations department.
We recently sat down to talk about her outlook on the ever-changing PR industry. And, of course, so you could meet Katie Briggs.
Given that we're living in a digital age, how has the PR role evolved?
PR pros have always been experts at adapting to change, and now it's coming at us at lightning speed as the world becomes more digital. You can no longer get by on press releases and media relations alone. Newsrooms are shrinking and spreading reporters thin. To be effective, you have to look beyond the standard news channels to find your audience through blogs, social media, and events. The key is finding the right balance and approach to each.
What's unique about a full-service agency and integrated approach?
I've worked in both the nonprofit world and in agencies. At a nonprofit, it's likely you'll handle multiple jobs under one broad marketing title (designer, writer, event planner) so you have a hand in almost everything that reaches the public. Agencies traditionally silo disciplines causing people to jump in at different points of a project. The changing landscape has forced lines between disciplines to blur and the silos are coming down. The beauty of being a fully-integrated agency is that you have multiple disciplines at the table working together from the start toward the same goal. You end up with more consistent messaging and better results.
The role of PR is multi-faceted. What do you think is the most important hat that a PR professional wears?
Protecting a company's brand and image. PR pros are charged with the important task of ensuring that every message drives back to the brand strategy and company image. You don't get many chances to affect how a company is perceived by the public, so you have to consistently manage and maintain what's being communicated.
Welcome, Katie. We're excited to have you onboard at Crowley Webb.