25 years of Jim.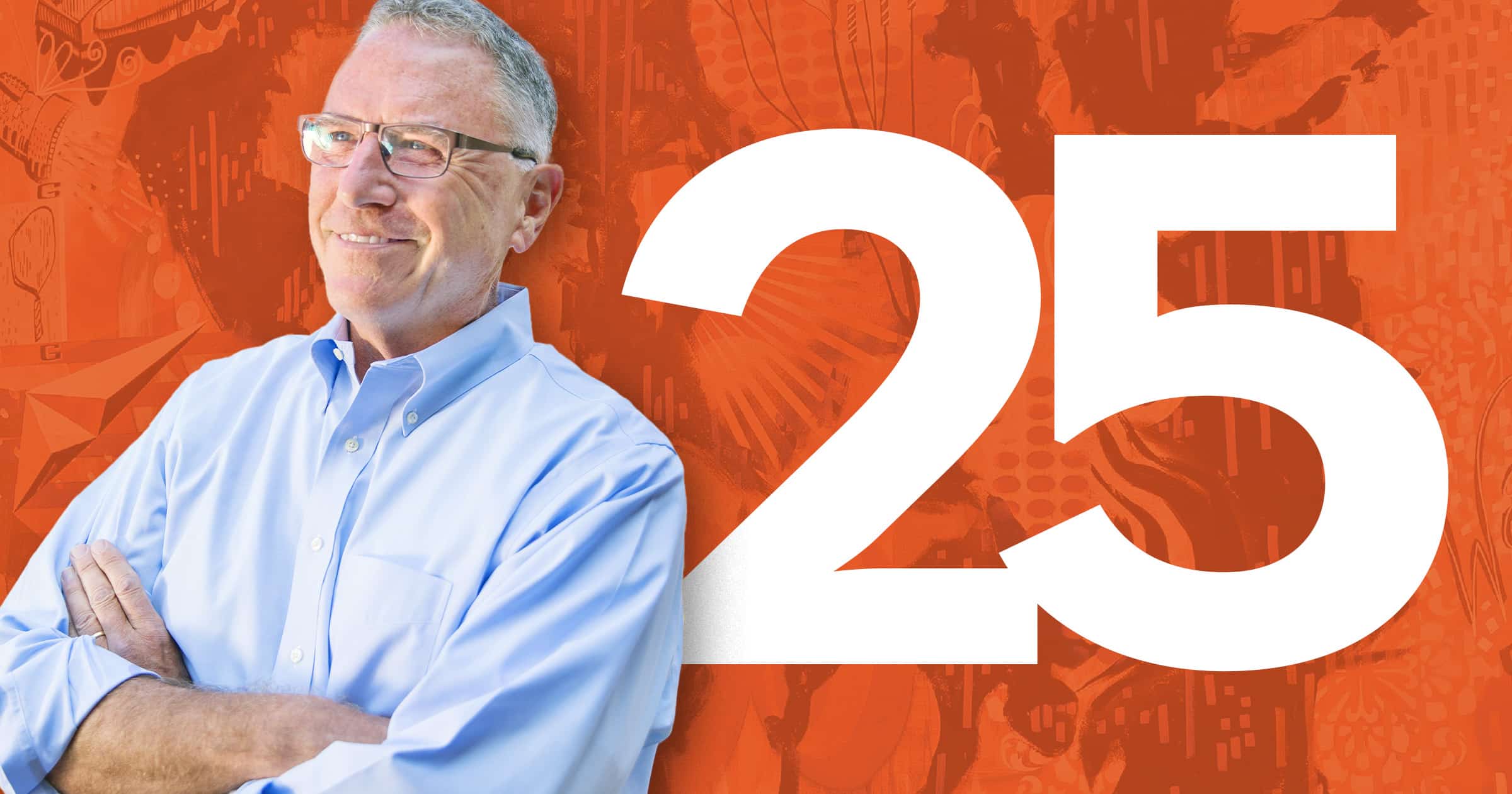 Today is Jim Hettich's 25th birthday at Crowley Webb. That's 25 years of "dude," "chhttt, chhttt, chhttt," and "roger that." 25 years of Jim asking new employees what celebrities they look like and if we're "liquid" after a Fera's lunch. Yes, 25 wonderful years of hugging it out and 25 years of doing what's in the best interest of the agency (soon to be trademarked WITBIOTA).
To commemorate this truly excellent news, a phrase Jim has so famously coined, I asked some of our Crowley Webb and Praxis colleagues to share what makes Jim so great, and here's what they had to say:
Because he loves the Grateful Dead!
He is always willing to sit with everyone at lunch and chat. He is also pretty solid at lunch trivia.
He's an incredible father figure to me. (And no, this isn't from Cuyler Hettich!)
He always has our backs, no matter what.
Jim will talk to anyone, anywhere, anytime for as long as they need.
He has always remembered my name – from my first day to my 576th day.
Running into Hettich in the kitchen is guaranteed to make any day brighter!
He trusts his people and gets out of the way.
Because he takes the time to empty the dishwasher. That's a small thing, but I'm guessing there aren't many CEOs around that you'd catch taking care of everyone's dishes!
Not only is he adept at making up CW-related lyrics to go with Beatles tunes, he's a great golfer!
He always asks how my day is going.
He is always so quick to show what he is thinking and always shows appreciation for a job well done, it leaves you wanting to hear more.
Whether you're at the bottom of the totem pole or the top, he treats every individual, employee, and colleague with the same admiration and respect.
The Grateful Dead belt. That's workplace culture flowing in those belt loops.
He helps build my confidence! He always provides me with positive and enthusiastic feedback after client meetings.
He calls jeans "dungarees." I love that about him.
You can always expect to have a laugh with Jim's chats and announcements!
I like how transparent he is with the agency information at retreats and state of the agency meetings. Whether it's good news or not so great news, he still shares it so we're all informed.
Jim has the remarkable ability to be both a strong leader for Crowley Webb and someone who any employee can turn to when they just need a good laugh.
He's the agency dad. We know his door is always open and he only wants what's best for our agency and our people.
His singing talent is off the charts!
Hettich ghosts from every CW event. Now you see him, now you don't.
What's best for the agency and our people is at the core of everything he does.
There are many reasons I've been at this incredible agency for eight years, but the main reason is Jim Hettich.
He embraces his authentic self, the good and the bad, and creates an environment which allows me to do the same.
To our fearless leader, Jim – we thank you.
As Jerry Garcia once said, "If you're able to enjoy something, to devote your life to it or a reasonable amount of time and energy, it will work out for you." I'd say it's worked out pretty damn well, my friend.
Cheers to you on your silver anniversary!