Advertising on Instagram.
Instagram recently opened its advertising doors to businesses – both big and small – who were not able to try advertising on Instagram before. This is an exciting development, as Instagram has a community of more than 400 million active users, who are uploading more than 80 million photos and videos per day. Talk about a highly engaged community!
Advertisers can also now reach global Instagram users in markets such as Russia, South Africa, Chile, Hong Kong, India, Indonesia, Japan, Korea, New Zealand, Taiwan, Thailand, Turkey, Israel, Italy, Saudi Arabia, Poland, Spain, Argentina, and Mexico.
Businesses of all sizes can now share their stories with fans in an environment that promotes visual creativity to increase brand awareness, fan engagement, website visits, and mobile app downloads. Advertisers can also benefit from the best of Facebook's ad infrastructure and target their messages to users based on their interests.
So far, Instagram offers three ad units – image ads, video ads, and carousel ads – for advertisers to tell their stories.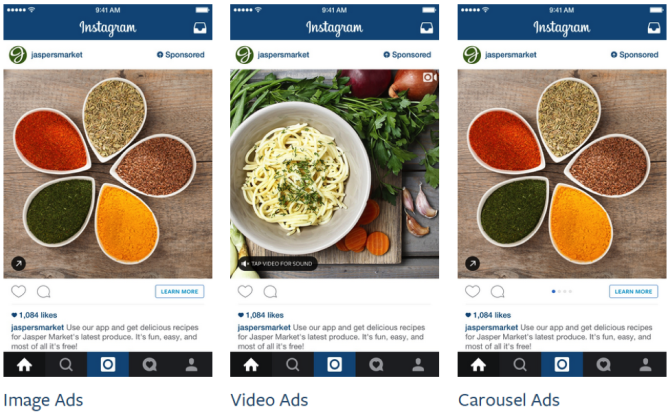 While it's exciting to finally reach the Instagram audience, advertisers need to take care when entering this uncharted territory. Instagram users come to Instagram for visual inspiration, and brands need to remember and respect this – and create content for advertising on Instagram accordingly, just like we do.
So remember that ad content should be made specifically for this sacred digital world and speak to and inspire people in new ways. Then you'll have yourself one well-liked account.
See ya on the 'Gram!