Employee spotlight: Andrea Gallagher.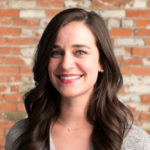 What makes Crowley Webb so special is the brilliant and creative people behind our work. That's why we've created our employee spotlight series, where we feature a different Crowley Webber every month. Today, we've chosen to tell the tale of Andrea Gallagher, our new PR director and already-beloved coworker and #girlboss. Andrea has more than 10 years of PR experience, most recently serving as director of marketing and public relations at the Buffalo Museum of Science. (She was our client!) Previously, she served as an account director at global PR firm Weber Shandwick, where she led campaigns for top consumer brands like Motorola, RITZ Crackers, and Honeywell. On the side, she's a travel-, baseball-, coffee-, and superhero-loving gal from San Diego with a pup named Buster and a hubby named Colin. Get to know Andrea and catch a glimpse of what makes her an amazing addition to the team.
---
What has been your coolest work experience?
I've been really lucky to work on some amazing accounts and projects – it's hard to pick just one! I had the privilege to work on Honey Maid's "This Is Wholesome" campaign, which showcased the changing face of the American family. The campaign was one of the first to feature a same-sex couple and their children, and the reaction was so positive! The story caught fire and we were everywhere from USA Today to the TODAY show to Ad Age. Our team ended up taking home a Cannes PR Lion for our work supporting the campaign.
Beyond that, launching Motorola Mobility's Moto Z and Moto Mods was probably the "coolest" project I've worked on so far. We hosted a mini concert with Andy Grammer, took editors on a photography trip to Maine, and went backstage at New York Fashion Week with Nigel Barker!
What do you like best about what you do?
Every day is different! I also love that PR lets me use both sides of my brain – I can be an über-organized, strategic account manager, and then I can flex my creative muscles to develop innovative, breakthrough campaigns for clients.
What advice do you have for emerging talent in the field?
Never stop learning. The PR industry is *constantly* changing and evolving. Attend workshops, read case studies, subscribe to industry trade pubs – anything you can do to make yourself a more educated practitioner.
What would the title of your autobiography be?
I'm Not Wearing the Appropriate Shoes.
What's the first thing you would do with $1 million?
Put half in savings (boring!), pay off my student loans (eww) and our mortgage (ugh), then travel for as long as the rest of the money will last!
What's the last book you read?
Everything I Never Told You by Celeste Ng
What makes you a great guest at a cocktail party?
I can usually bring a lot of random pop culture knowledge to the table. Looking for a book recommendation? Want to talk Game of Thrones fan theories? Need the score from last night's game? Craving an update on celeb gossip? I'm your girl.
What do you bring to the Crowley Webb PR team?
While a lot of practitioners have a specialty or focus, I'm a generalist! I love media relations, but I've also managed multi-million-dollar influencer programs and coordinated celebrity partnerships. I've touched brands of all different sizes, from startups to global companies, across industries such as food, CPG, consumer technology, B2B technology, science and education, energy, gaming, and travel.
Welcome, Andrea! Thanks for upping our cool factor.