Movin' on up!
At Crowley Webb, we know that hard work works hard, and these 10 individuals are a testament to that. Join us in congratulating each of these CW superstars on their recent promotions. Do we have a great group here or what?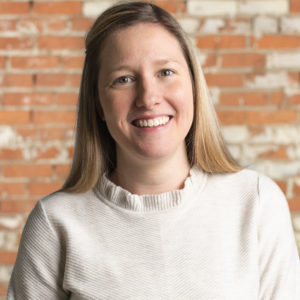 Kelly Peters has been promoted to digital project management director. Since joining the team three years ago, Kelly has shown up each day with her high-energy, straight-shooting (often funny) approach to projects, clients, and life in general. She's wrangled plenty of complicated digital projects, brought new processes and order to our overall team organization, and has made the day-to-day just plain more fun. She's an incredible asset to our team, and we're thankful she's continuing her growth here.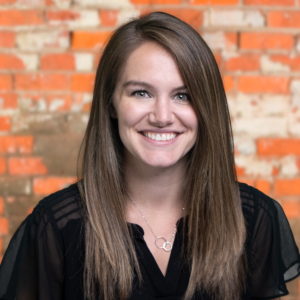 Katie McLain has been promoted to (our first-ever!) director of human resources. Aside from her sunny disposition, she has shown us all how valuable it is to have an HR guru in-house. After hiring a record number of employees in 2021, Katie also found time to immerse herself in agency culture, put key policies in place, navigate the ever-changing world of COVID, and assist with getting the agency back to the office. Suffice it to say, she's been an incredible addition to the CW team!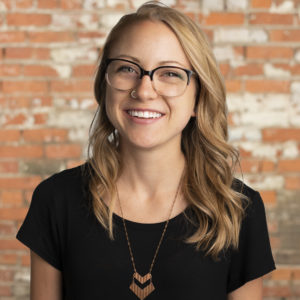 Katelyn Killoran has been promoted to art director. In her three and a half years at Crowley Webb, Katelyn has made a big impact with her thoughtful design, smart concepts, and calm demeanor. Her creativity is on full display while working on projects for Praxis clients and for other clients like Arrow Fastener, Second Generation Theatre, and more. We're excited to see what she accomplishes next!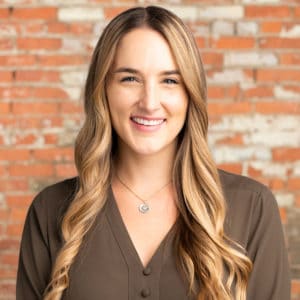 Kirsten Ritchie has been promoted to art director. Since joining the team almost three years ago, she's been making her mark on our creative product. In addition to being talented and a joy to work with, she knows Praxis inside and out and helped launch the super cool (and award-winning) new look for Community Music School. To be honest, everything she works on looks super cool.
Nate Hillabush has been promoted to senior art director. Not only is Nate an über-talented designer, but his calm and cool nature puts both coworkers and clients at ease. He has been crushing it working on several clients over the past year and a half, including Pony Jorgensen, Goldblatt, ESAB, and Evergreen. We sure love Nate!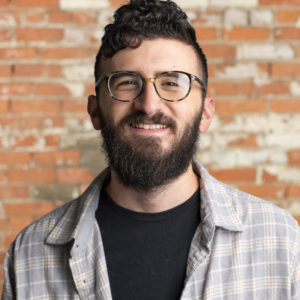 Alex Behrens has been promoted to senior editor. When Alex was hired three years ago, we knew he was seriously talented, but his skills have far exceeded our expectations! He has been a force in the video department, helping create inspiring, hilarious, thought-provoking, and award-winning work for dozens of clients. (Not to mention, he's quite the TikTok star.)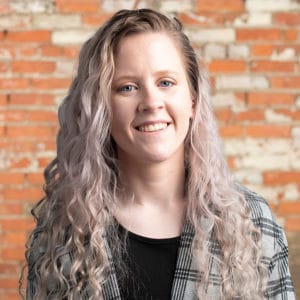 Amanda Carrasquillo has been promoted to proofreader/editor. Amanda came to us just over a year ago and wasted no time demonstrating her proofing prowess. She provides helpful guidance not only on copy but on our layouts as well. Nothing gets by Amanda!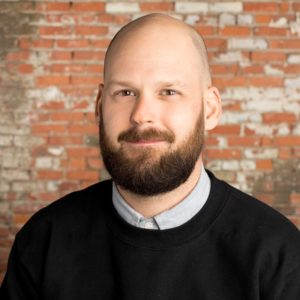 Matt McCarthy has been promoted to senior production manager. For the past 11 years, Matt has been a key player on our production team. He's produced stellar work, and we're lucky to have someone with great taste and design sense to lead our production team forward.
Liz Preville has been promoted to project manager at Praxis. Since joining last year, Liz has established herself as a huge asset to the Praxis team and her clients. With her calm presence, dedication, and a willingness to jump in on any and all tasks, Liz is beyond deserving of this recognition.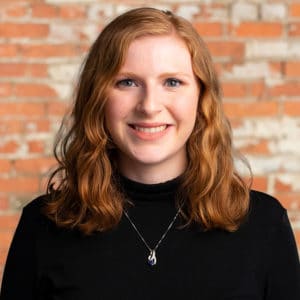 Rachel Serianni has been promoted to project manager at Praxis. Anyone who's worked directly with Rachel can easily see her commitment, work ethic, and attention to detail, as well as the positivity and fun she brings to both Praxis and Crowley Webb. We're so lucky to have her and are thrilled to recognize her for everything she's done this past year.
Interested in joining this team of talented individuals? Well, you're in luck. Check out our current openings on our careers page.