Conference Recap: HOW Design Live
Our associate creative director Katie Hazel and our senior art director Nicole Reinard attended the HOW Design Live 2019 conference in Chicago this spring and heard from many cool designers, artists, and inspirational speakers. The days were packed with keynote presentations and breakout sessions on a huge variety of topics. Here's a little recap from Katie and Nicole on their experience.
The speakers.
We learned from the personal experiences of Lisa Congdon while she talked about how risk and failure are essential components of creative achievements, and how she eventually came to realize that the long path that got her to her career later in life was a strength, not a weakness. She had to overcome "impostor syndrome," which many people (especially women) experience as the feeling that you don't deserve the job or role that you have.
We saw some really cool work from Timothy Goodman. He talked about his background and how he followed his dreams and carved out a career for himself that he didn't know was possible.
Jocelyn Glei addressed the truth of burnout and how it leads to apathy.
Stefan Mumaw spoke on the structure of storytelling and how powerful it can be when you combine structure and emotion.
And Pantone and Neenah Paper even talked about how effective color can be as a communication tool, and about the new, up-and-coming trends (spoiler alert: you're going to see a lot more metallic in everything, from print design to packaging).
Biggest takeaways.
It's far safer and easier to do what's popular. Business leaders want evidence an idea will have success. Those who take chances are often rewarded by the journey, and those who don't are stuck with safety. Just by acting popular, you can help sell your ideas.
Have background of the culture you're presenting in, and conduct informational interviews to learn more. This way, you'll know how you can influence or change it. If the culture is hierarchical versus data driven, then decision-making will be decided the same way.
These days, everyone wants everything faster, quicker, sooner. We can't just stick with the same design process and do it faster. We need to rethink the process altogether.
Technology takes us away from creativity. Filling every minute of your drive, your shower, your cooking or gardening with a podcast, a radio show, an audiobook, or a television series lets everyone else's ideas take up space in your brain. Leave room for your own creativity to wander. Creativity is all about the process, and the process takes time.
Change your mind-set on client input. What if their idea is genius? If you regard all client input negatively, you will only spend your career frustrated.
"Decks don't move people. People move people." Your presentation deck shouldn't be a slideshow with a script for your voiceover. Present one thing; don't try to jam too much in and treat it like a speech. The slides are just background – the audience should be listening to what you have to say.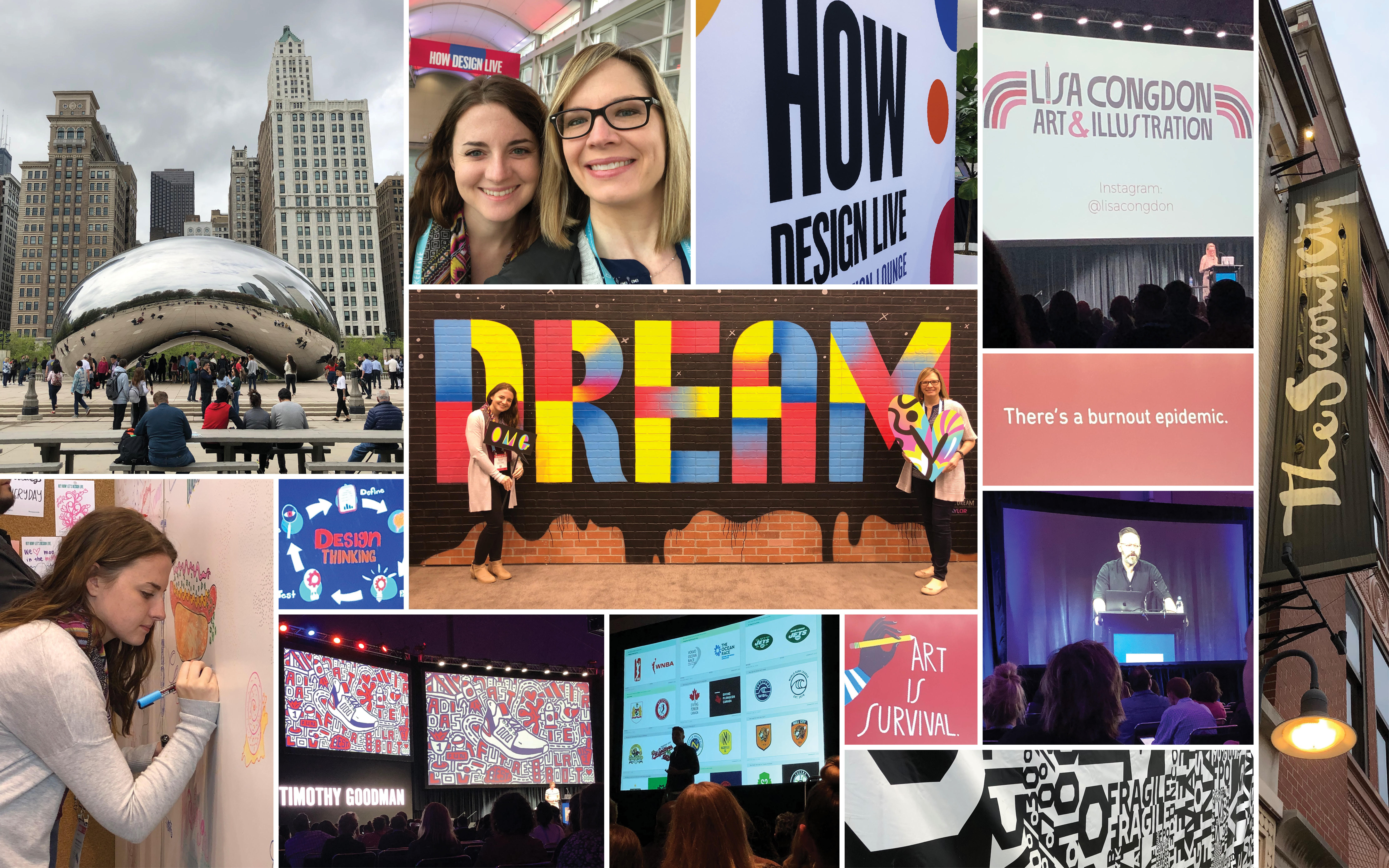 In addition to these memorable experiences and inspiring presentations, we found time to swing by Second City and Millennium Park. It was a great trip and we hope to go back!