Crowley Webb and Block Club. It's a winning combination.
Boy, do we have some news.
We're creating something all new and truly unique with our pals up the street at Block Club. As of today, our agencies are teaming up as part of an exclusive shared services agreement (an "ESSA," if you will).
What's an exclusive shared services agreement? It's a fancy way of saying we're going to be working together on a regular basis, tapping each other's strengths to bolster our own. Why do this? Well, when you consider what we have in common – our cultures, dedication to hard work, love of Buffalo, and regard for killer creative – it's kind of a no-brainer. But really, it's where we differ that's going to pay off for current and future clients.
We see Block Club offering CW clients services such as ideation and innovation, entrepreneurial product development, and business development. In turn, we'll provide Block Club clients with analytics, research, public relations, and media planning and buying. We also see this venture helping us jointly pursue new opportunities and projects that may not have been right for either of us before today.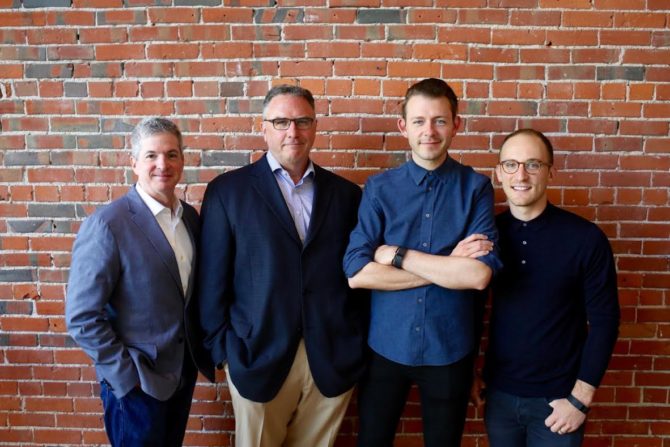 Jeff Pappalardo, Jim Hettich, Brandon Davis, Patrick Finan
"This is all in service to our clients to offer them a more dynamic experience," said Patrick Finan, cofounder and principal at Block Club. "It's an exciting way to deepen our relationships with our existing clients and pursue new business together in Western New York and beyond. There's something powerful about two of the top agencies in town sharing services."
"Block Club and Crowley Webb are alike in many ways. We have similar operating styles and philosophies, we share a commitment to Buffalo, and we both have a passion for our work and clients," said Jim Hettich, chairman and CEO at Crowley Webb. "We're excited to put our heads together and take our work to the next level."
That's what this is all about, really, for both of our agencies – our clients and the work. Because that's all it's ever about.
These are exciting times down here at 268 Main Street. More to come for sure.