Getting to know the hot, new(ish) messaging app Peach.
In early January, a new app called Peach rocked the world of social media with rave reviews and oodles of downloads. Created by the founder of Vine, Dom Hoffman, Peach is a messaging app, that according to its App store description, lets users share what they "feel, think, see, hear, and do – vividly."
"Peaching is just like texting, but better. Some words you type are magic words that give you quick access to all sorts of things to share, from drawings, links, and GIFs, to the weather, your current location, what you're watching tonight, how many steps you walked today, and much more," the App Store description explains.
The "magic words" are what really seem to set Peach apart. For instance, you can use the magic word "song" to share to your friends what you're listening to at that moment. Your friends can then tap on the song and open it up in Apple Music or Spotify. Here are some of the other magic words:
"Shout," which lets you write a few words (+ emoji) in BIG letters on a background color or image. You can swipe left to add frames for an animated shout.
"Draw" is used to post a doodle or sketch
The magic word "rate" lets you give anything a 1–5 star rating.
"GIF," "Here," "Goodmorning" "Goodnight," "Mood," "Throwback," and more.
This feature differentiates Peach from other messaging apps like WhatsApp, Messenger, or Hangouts by allowing users to communicate with more than a still image or a line of text. And in keeping with the self-aggrandizing core of social media, friends can "like" and comment on your status. However, there is no private messaging on Peach, which is another way this platform is different from other messaging apps.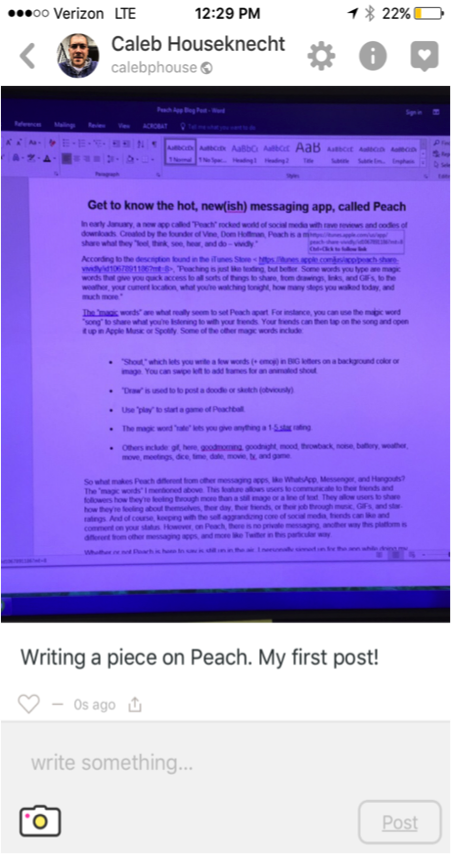 Whether or not Peach is here to stay, I certainly can't tell you. I personally signed up for the app while doing my research for this post, and I'm still on the fence about it. I love the concept, but I had a bit of trouble figuring it out. For instance, after three minutes of searching for the "magic words," I still couldn't find out how or where to access them. I did discover that tapping the little lightbulb at the bottom left-hand side of my profile page prompted a question, such as, "What used to scare you as a kid?" If I hit "answer," it would start a post for me: "As a kid, I used to be sacred of . . ." I see what they're doing here; however, I struggle to keep up with all my social media as it is, so I am certainly not going to a network with nothing to say or do. And, thus, I think Peach needs to make the app a bit more intuitive for its users. That's just my opinion after a short amount of time playing around on the app.
What about you? We'd love to hear about your experiences with the app. Hit us up in the comments below and share how you and your friends are using Peach.