Three cheers for our new CFO/CIO!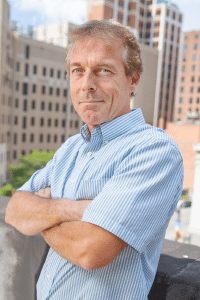 Congratulations are in order for our most loyal Crowley Webber to date, none other than John Fletcher, who has been with us for a beautiful 33 years. John has been promoted to chief financial officer/chief information officer; he'll continue to manage and oversee all of CW's financial operations along with the organization's information technology strategy and implementation.
As the longest tenured employee at Crowley Webb, John first joined the agency in 1990. Fun fact about John during this time: he was often referred to as "John at Night." This is because by day, John worked as a commercial real estate broker, but on nights and weekends, he worked to support various operations at CW. After our former CFO's retirement in 2015, he seamlessly transitioned into a leadership role within the accounting and HR departments as vice president, comptroller/IT director.
With a knack for innovation, John turned Crowley Webb into a paperless office well ahead of the trend. He has also worked to ensure that the agency is compliant with GDPR, APEC, and Privacy Shield protocols while recently pursuing ISO 27001 accreditation for the company. (It's fine, many of us don't know what all this means either.)
Along with overseeing a couple departments across Crowley Webb, John also manages all aspects of our Sweeney Building, where Crowley Webb has been headquartered since 1989.
Cheers to John Fletcher! Who knows where we'd be without you.