John Webb's lasting legacy.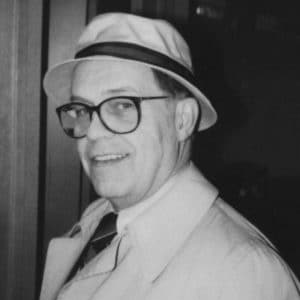 We lost one of our own this past Tuesday. It was August 17, a little more than 92 years after John Webb arrived on this earth. And the years in between allowed him the time to leave an indelible mark on the many people he knew, the people he worked with, and the industry he was so passionate about.
I find it sadly serendipitous that John's passing happened so close to the 35th anniversary of the agency he cofounded with Joe Crowley. In 1986, John was at a point in his career when most people would be thinking toward retirement. John was thinking about his legacy. He (an accomplished designer and art director) and Joe (an account guy) did the unthinkable and decided there must be a better way to run an ad agency. They believed an agency should be about good people doing great work for deserving clients. This was the formula that would change everything for so many who've had the privilege of working for Crowley Webb. Well, this and a mutual love of the Boston Red Sox.
Crowley Webb was born a day before John's 57th birthday. And yes, what feels like lore is absolutely true: John and Joe had a client before they had an office and used a phone booth on Chippewa Street to do business. But they stuck with it. And they parlayed this one relationship into another and another. They added employees and eventually an office. They moved into our current home on Main Street in 1989.
I arrived at the agency nine years later – and three months after John retired. So, I missed his time at Crowley Webb. I missed witnessing him working on designs at his desk with just two triangles – no T-square, no drawing table, and definitely no Mac. I missed his warm yet imposing presence around the office. The way he would hold his cards in meetings and then deliver his awaited opinion with complete wizened charm. (Those were the meetings that stuck with folks over the years.) I missed the way he made creatives feel good about themselves and even better about their work. The way he gave people a ton of confidence. The way he demonstrated how to dress, how to present, how to behave as a creative. The way he influenced a team that influenced the people I have the pleasure of working with today. I missed all that. But I am fully aware of its impact on who we are as an agency today.
While I did arrive after John retired, I was fortunate to have a very strong relationship with him.
The friendship that we developed over the course of the past 20+ years was based solely on the keen interest we shared for the advertising industry – and the love we both had for Crowley Webb.
Many who came after me were also touched by John's lasting presence. From time to time, he would visit the agency, share a drink and a laugh, and reflect on how proud he was to see the way the agency had grown and changed since he left. Those who knew John well and those meeting him for the first time would equally be hanging on his every word. And would smile when he flashed his trademark grin.
These are the John moments that stick with me.
When I think back to all that John accomplished in his life, including the fact that he was already an icon in Buffalo before he cofounded Crowley Webb, I take solace knowing he had exactly zero regrets. The guy did it all and did it all his way. His legacy is all around me. And that makes me proud.
We have eight philosophy points we live by as an agency that John and Joe instituted almost immediately. Crowley Webbers know these well. When asked which was most meaningful to him, John would note, "Fire lasts longer than fireworks."
John Webb was all about lasting, the long haul, sticking with you. And he'll last as long as we do.