Stop the presses, the great Mary Kroll is retiring.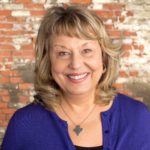 After 18 years with Crowley Webb, and a hugely successful career in print production spanning decades, our amazing print production manager, Mary Kroll, will be shelving her Pantone books at the end of this month.
Upon arriving at Crowley Webb in 2004, Mary, with her keen eye and incredibly high standards, had an immediate impact on our work. She took on every production challenge with enthusiasm – whether it was six-foot ficus trees sent to pharma execs or a die-cut, varnished, embossed, perfect bound annual report for M&T.
Aside from her indelible impact on the Crowley Webb creative product, it must be mentioned just how especially kind and thoughtful Mary is. I'd go as far to say that she's one of the most genuine people I know. And you bet she's got a sense of humor, never really minding when Matt Low would play practical jokes on her from time to time. My favorite was one prank call he made to her pretending to be a member of the town highway department breaking the news to Mary that her front lawn would need to be dug up. (We had her on the phone for 10 minutes before she finally asked, "Matt, is that you?") Another time, Matt hid in an oversized box in her office and popped out to startle Mary after she entered and excitedly asked, "Is this for me?!"
In addition to her affable nature, it's the dedication to the work we'll miss about her most of all. She's carefully reviewed more proofs than even she can remember, sourced hundreds of items far and wide for clients and Crowley Webb alike, and traveled through snowstorms to attend press checks. And she always did so with her signature smile.
Come April, Mary is looking forward to traveling and spending time with her family – especially her two adorable grandchildren.
We're not kidding when we say we'll miss you, Mary, and wish you only the best.
Congratulations on your retirement!