Going with the FLO: Celebrating Frederick Law Olmsted's 200th birthday.
Crowley Webb kicked off 2022 with a very special partnership; we teamed up with our old friends, the Buffalo Olmsted Parks Conservancy (BOPC), to help commemorate Frederick Law Olmsted's 200th birthday in Western New York.
April 26, 2022, marked 200 years since the birth of American landscape architect and social reformer, Frederick Law Olmsted. To celebrate, BOPC and other organizations around the country rallied around the national Olmsted 200: Parks for All People campaign, which is a year of public programming and events designed to celebrate, strengthen, and expand access to parks and open spaces.
If you don't know much about Frederick Law Olmsted, or "FLO," we encourage you to check him out. He's best known for designing Central Park in New York City, the United States Capitol Grounds, and Boston's Emerald Necklace. But for us Buffalonians, he's best known for designing Niagara State Park and the Buffalo Olmsted Parks System – the very first park system in the country! BOPC is a special organization because it cares for this historic park system, including Delaware, Front, South, Riverside, MLK, and Cazenovia Parks. FLO's legacy has helped shape Buffalo into the beautiful City of Good Neighbors it is today.
So, in honor of his bicentennial birthday, BOPC and Crowley Webb joined forces to support the nationally coordinated Olmsted 200 campaign and celebrate this momentous year here in the Queen City, including two major events: Olmsted's 200th birthday on April 26 and BOPC's attempt to reclaim the GUINNESS WORLD RECORDS for Longest Line of Garden Flamingos on June 21.
An integrated team across account service, digital, creative, media, and public relations got to work. And whew, were we busy.
For starters, we developed a new creative platform, "BFLO," which centered around the idea that you can't have Buffalo without "FLO" and his legacy.
We helped bring "BFLO" to life through a new website landing page, posters, postcards, out-of-home advertising, TV, and direct mail.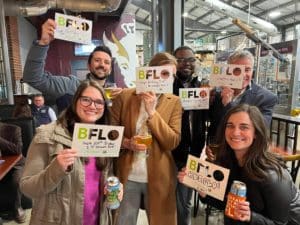 We even designed a commemorative beer can for Resurgence Brewing Company'snew Olmsted Ale, with proceeds going back to support BOPC.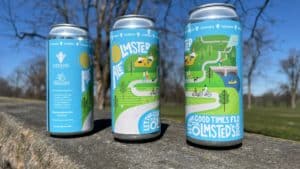 But that's not all. Next up was Olmsted Week – a week-long celebration that kicked off on Earth Day (April 22) and concluded on Arbor Day (April 29). We helped create park spotlights for BOPC's social channels and engaged in a local and national media relations program around Frederick Law Olmsted's impact on Buffalo (and drove more than 15 million earned media impressions in the process!).
We worked with Buffalo's first poet laureate, Jillian Hanesworth, commissioning her to develop a piece in honor of Olmsted. At the press event on Olmsted's birthday, she shared a beautiful, moving piece called, "Paint my people green."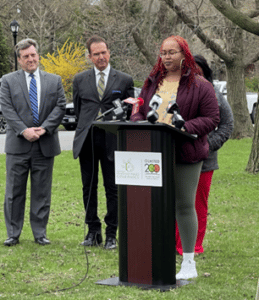 Come June, our support took on a shocking shade of pink as BOPC (spoiler alert!) successfully reclaimed its GUINNESS WORLD RECORDS title for Longest Line of Garden Flamingos! Not only were the kitschy garden flamingos (dubbed "FLOmingos") a playful nod to FLO, but each flamingo was up for adoption, and sales went to support BOPC's mission.
In addition to a full media relations blitz around the event focused on driving FLOmingo adoptions and attendance at the event (we clocked 80 placements and counting!), we traveled to Buffalo hot spots and beloved culturals before the event with a small flamboyance to help tease the celebration on BOPC's social channels. The flock made stops at Highmark Stadium, Kleinhans, Shea's, Canalside, Buffalo's Colored Musicians Club, Sahlen's Field, and more! We also brought a little star power to the event, tapping local Buffalo influencers and celebrities to decorate a flamingo for the big event. Not only were these "Superstar FLOmingos" there at the GUINNESS WORLD RECORD attempt, but they'll also be auctioned off at the BOPC's 20th annual gala this fall. (Special thanks to Beverly Johnson, Patti Thomas, Robby Takac, JoAnn Faletta, Ryan Miller, and Patrick Kaleta for participating!).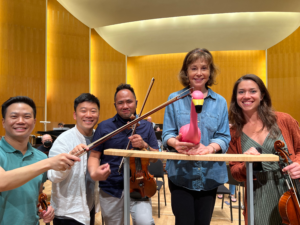 Olmsted had an indelible impact on the city of Buffalo, and his legacy is one that BOPC is dedicated to protecting and keeping alive this year and beyond. BOPC will continue to celebrate Olmsted's bicentennial birthday through the end of March 2023, so visit the Olmsted 200 page to learn about upcoming events and how to support BOPC!