So much pride.
In a world in which politics and social movements are deeply intertwined, the annual "rainbow washing" from corporations is not surprising come the month of June. Sure, logos get a glow up (including ours), social media accounts post pictures of smiling same-sex couples, and Target releases its "Live, Laugh, Lesbian" shirts (or not). But when July 1 hits, all this "support" abruptly dissipates, and we're shuffled along to the next holiday bathed in the colors of red, white, and blue.
But what if we made this month and what it represents a little more meaningful?
At Crowley Webb, we have historically changed our logo to a rainbow, decorated our space with hearts and flags, and even had employees volunteer at the Canalside Pride Festival. But this year, Crowley Webb announced we were going to have a float in Buffalo's Pride Parade. And so, although in the past we showed support and talked the talk, we have now also literally walked the walk (fabulously down Elmwood Avenue).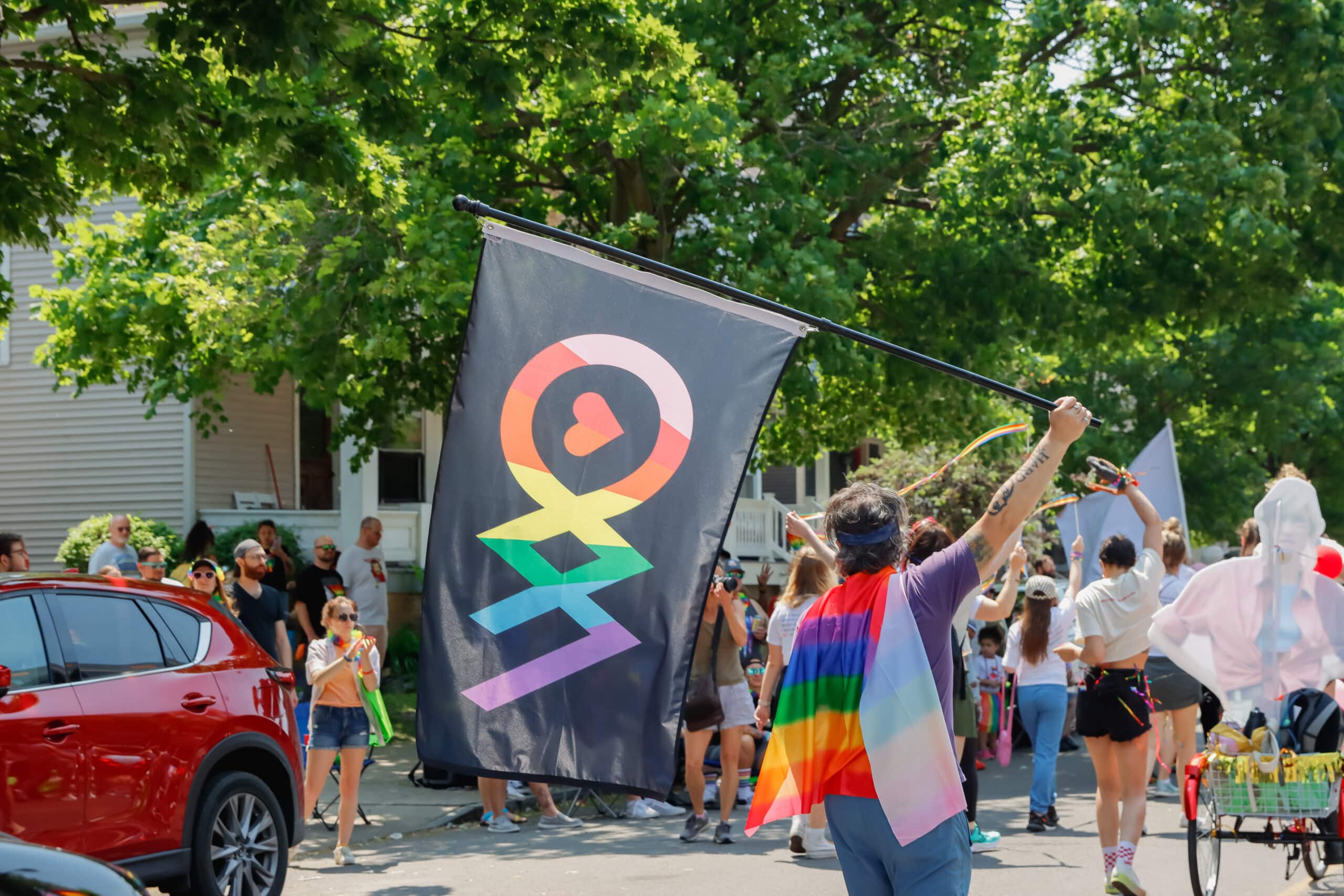 I personally had never been to the parade before, let alone been in it. I've never kept my personal life a secret, but me being queer wasn't publicly common knowledge until last year, when I went to the Pride Festival for the first time (and posted a shameless selfie on Instagram). I was shy, I was reserved, and I did some subtle makeup to signify what camp I was in. But I went by myself and hung back from the crowds. I had excitedly joined Crowley Webb's Diversity Equity and Inclusivity committee upon being hired, but being a feminine cis-AFAB (look it up) who dates men and uses she/they pronouns, people may have just assumed I was an ally (as so many great people on the committee are!).
Seeing the effort that the DEI committee made to decorate the front of our building with pride colors in June to show any passersby on Main Street that we are a safe place was great. Hearing that we were going to be in the parade was on a different level – the whole city would see that we were committed to the cause. What they didn't see was how my coworkers excitedly sold me drink tickets when they saw me at the festival last year. What they didn't see was how my table at our holiday party bonded quickly over our shared membership to the Alphabet Mafia. What they didn't see was my boss, taking a genuine interest in learning my partners' names, and asking about them just as often as they asked my coworkers about their hetero-monogamous partners.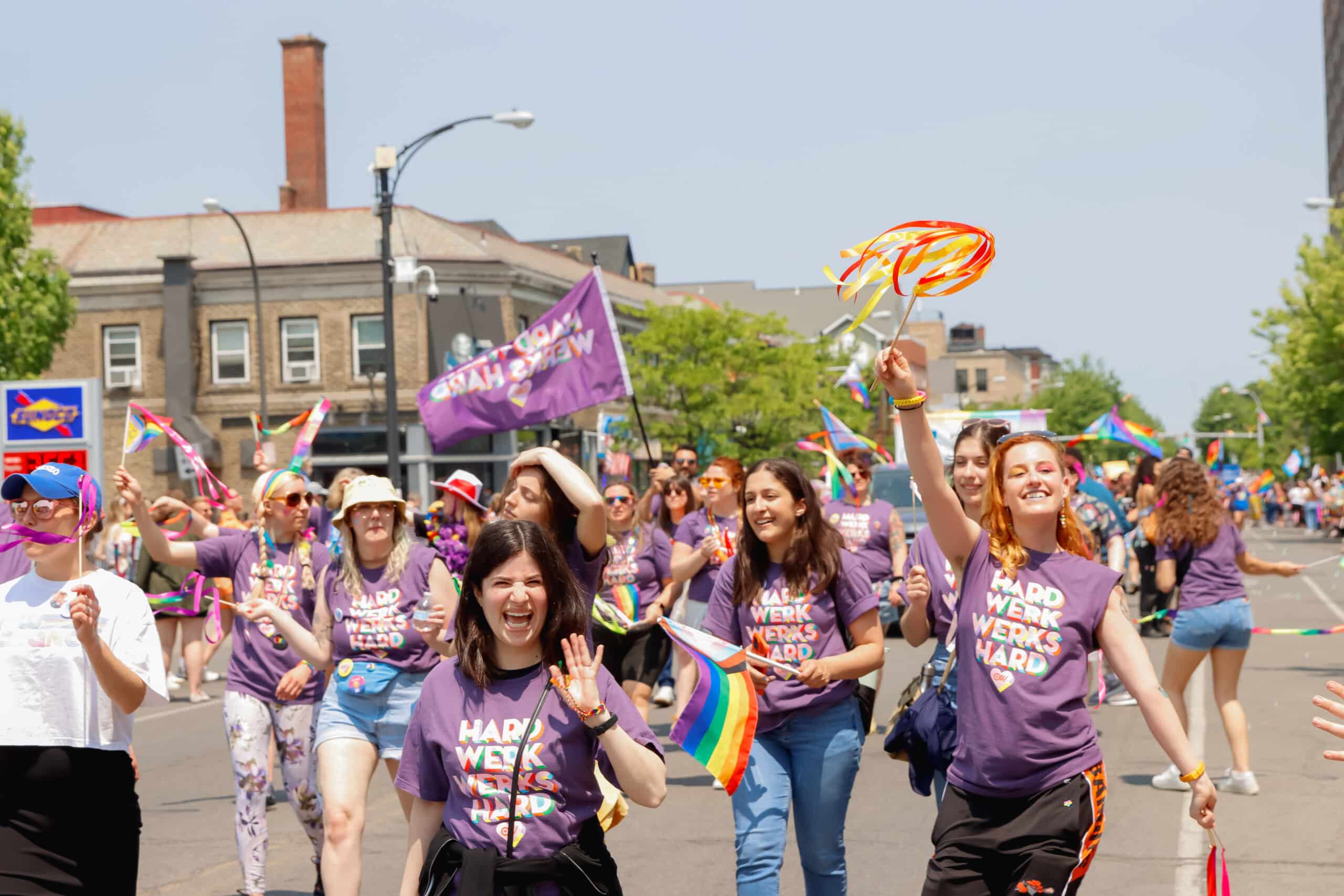 People at Crowley Webb care. We listened to another float in the parade cheer a corporate hype-up chant when the line stalled. It seemed like this group was there for a community – their community. Crowley Webb was in the parade for the Pride community. Sure we had branded shirts and flags. But I remember one discussion we had during the planning process in which someone asked if anyone would know who CW was if we handed out buttons with the rainbow version of our logo. Would they know what we do? Should we make it clearer we're an ad agency? And then almost immediately we realized that it didn't matter. People didn't need to know who we were or what we did – we weren't there for us.
As a recovering attention hog, I sometimes have to remind myself that things aren't always about me. But on June 4, walking in the parade, my makeup bold in my flag's colors (pink, yellow, and blue for pansexuality) cheering with my fellow LGBTQIA+ on the sidewalks, wearing my Hard Werk Werks Hard shirt (that I cut the sleeves off of, and pinned a polyamory patch to the back), it was about me. It was about my friends at work, who have never once felt like we had to hide who we were for the sake of "professionalism." Truly, I felt a sense of community that I've never felt before.
I am so grateful to CW for giving me the safe space to be myself, unapologetically. I can't wait for CW to get bigger, better, and more connected at next year's parade. We're here, I'm queer, and I'm so, so proud of us.