A social few days.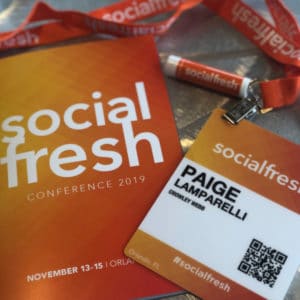 It's been a few days since I left the beautiful (a.k.a. my favorite) city of Orlando, Florida, with bleary eyes, a full brain (and heart!), and an even fuller stomach. Joined by more than 400 social marketing leaders from the world's biggest brands and agencies, I attended the 10th Annual Social Fresh Conference, where we explored the latest and greatest in – you guessed it – social media. For three days, my schedule was packed with keynote presentations, panels of leading social brands, and tons of networking opportunities. Here's a little recap of my biggest takeaways.
The State of Social Media in 2019 – @jasonkeath
Snapchat now reaches 90% of all 13-to-24-year-olds in the US
Twitter users are 20% more likely to recall ads
Stories are great on Facebook and Instagram, but don't abandon your feeds
Crafting Content – @leahfeygin and @jkarpf
Unexpected visuals and unexpected voices make your content unforgettable
Try branded emojis to increase engagement and impact
Create a clear path to purchase using tools that make social media posts shoppable
Act like a newsroom to discover consumer trends that fit your brand
Employee empowerment is the next phase for brands
The key to making content audiences like is to know what they want – actually speak WITH them, not AT them
Custom brand GIFs are gold
TikTok – @davejorgenson
If it's not fun, you're doing it wrong
Post your TikTok for the day around noon
Look for ideas inside the app itself; try using trending themes and sounds
Share your TikToks on Twitter
Choose someone to run your brand's TikTok who's a video editor FIRST
Social Ads – @susanedub
Ads in Instagram stories are winning right now
Customize your ad creative for vertical placements
For Facebook ads, opt for videos that are 10 to 12 seconds long
Have a friend go through your ad experience as a user before you release it
For video ads, try vertical video; it feels native to the platform
Take advantage of seasonal moments in social ads
Measurement – @ambercadabra
The ultimate goal of a business is not clicks, it's market share
ROI is a trailing indicator of past performance, not a predictor of future success
Community Building – @kara_cronin and @nikkisunstrum
Don't try to be a mind reader; ask your target audience directly what they are struggling with and what they are seeking
Facebook groups can be an excellent way to really get to know your audience
Elevate and connect your rock star fans
Pretty pictures belong in the feed; in-the-moment images live on stories
Each and every person you represent or aspire to influence should be able to see themselves in the content you share
Creativity Cheat Sheet – @jasonkeath
Try stop-motion ads for a different perspective
Use selfie angle for educational stories
Relatable list posts are simple and effective
Expecting More from Influencer Marketing – @jtobin
Influencer content is not magically more successful
Measurement – even for sales – is possible
Reach and impressions don't coordinate with sales, but ad recall rate DOES
Now, my friends, it's time to get on it. If you're not sure where to start with your brand's social media, reach out to us.