Weeding through the media landscape.
The continuous growth of the media landscape should have you thinking seriously about the choices you're making. Consider the technological advances we've seen in just the past few years and the impact they've had on consumers' daily habits. How does that impact affect your company's media strategies?
Assessing media trends and asking questions are important steps in making the right recommendations. For example: Has traditional radio lost its connection to the community as services like Pandora, Spotify, and SiriusXM gain listeners? Is cord cutting a sign of the end for traditional pay TV? Are newspapers and magazines going to survive, given the immediate accessibility to news and content through digital channels? Does my five-second billboard message stand a chance of making an impact? Are tablets the new desktop of choice? When will this internet fad go away? (It's taking forever!)
We all use smartphones, smartwatches, and smart TVs – but how smart are we about the way we understand media and how it's consumed? Sometimes our own habits lead us to assume that everyone's doing what we are.
So then what exactly is the current state of the media landscape? Is everything flourishing together, or are some media growing so much that the others can't sustain anymore? Let's dig into some stats and find out.
According to an April 2015 eMarketer report, the trends of time spent by consumers and ad spending against each medium between 2013 and 2015 looked like this: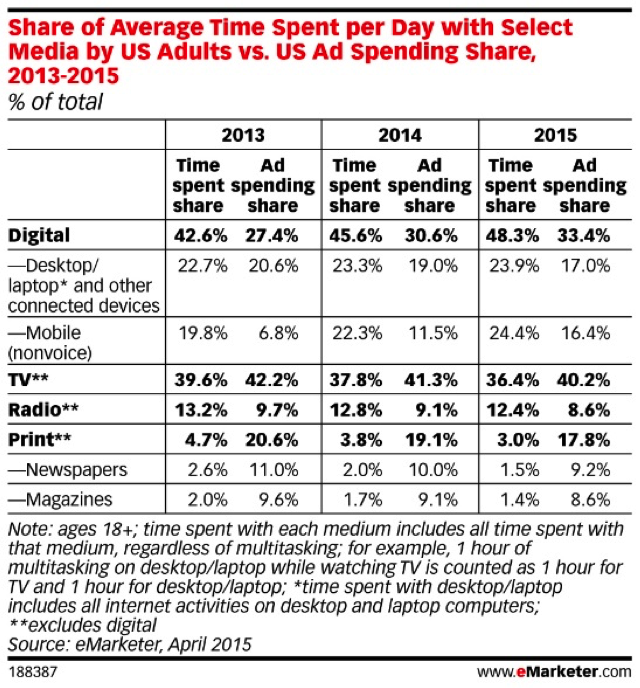 The percent changes from 2013 to 2015 for each medium are as follows:
| | | |
| --- | --- | --- |
| Digital: | Time Spent 13% | Ad Spending 22% |
| TV: | Time Spent 8% | Ad Spending 5% |
| Radio: | Time Spent 6% | Ad Spending 11% |
| Print: | Time Spent 36% | Ad Spending 14% |
So over the past three years, time spent by the consumer and ad spending has slightly declined for TV and radio, but the most significant shifts occurred with continued digital growth and continued print decline.
When creating your next media recommendation, be sure to put aside your assumptions and personal media habits. Instead, dig deep into the research to truly uncover the best strategy for reaching your target audience and for inviting them to engage with your brand. You may find that a paid digital video campaign proves to be the most affordable and cost-efficient way to reach a narrow target audience while still delivering the type of emotion and message that your TV spot would have delivered. And you may be surprised that, despite the large decreases in time spent by the consumer and ad spending related to print, running an ad in a major daily newspaper is, in fact, the best method to get quick results since it can still deliver massive reach in a single day.
Regardless of your next media strategy, it's important to be aware that the landscape continues to evolve. The best recommendation you can make is one that blends solid research with an open mind toward all forms of media, new and old.