Working with our main squeeze, Stefon Diggs.
We've been on the M&T Bank team for more than 30 years, but 2022–23 might have been our best season yet when the bank kicked off a partnership with Buffalo Bills wide receiver Stefon Diggs.

Football brings us together.
M&T scored Stef again for this season and first on the schedule was to create a TV spot that would play on Football Sunday. Under our evolved Football Brings Us Together campaign, we captured fans playing throw and catch with #14 from beloved Buffalo locations including the Buffalo Zoo. This idea, of course, was inspired by Diggs' pre-game ritual of tossing footballs to fans in the stands. Can't wait to see it in between touchdowns on TV? Well, you're in luck.
Catching an entire campaign in just one day.
M&T and #14 share a passion for getting out in the community, and we had so many great ideas to showcase this and get fans excited about this partnership beyond just one TV spot. Being the busy guy that he is, Diggs' schedule only allowed him to be on set for one day – meaning one day to film an entire season of content.
Forfeiting content that we knew would score some serious engagement simply wasn't an option for us, so our team came together with M&T and made the ultimate game plan to fit everything in.

Lights, camera, action, hike!
We started out the morning bright and early at a local M&T branch with Diggs in his regular street clothes. We planted mics around the branch and our Director of Photography, Ben, actually hid behind a plant to film customers' reactions as Diggs interacted with them. We didn't know what would happen, we just hoped we'd get some authentic reactions. And boy, did we strike gold. Spoiler alert: not everyone in WNY recognizes Diggs, believe it or not.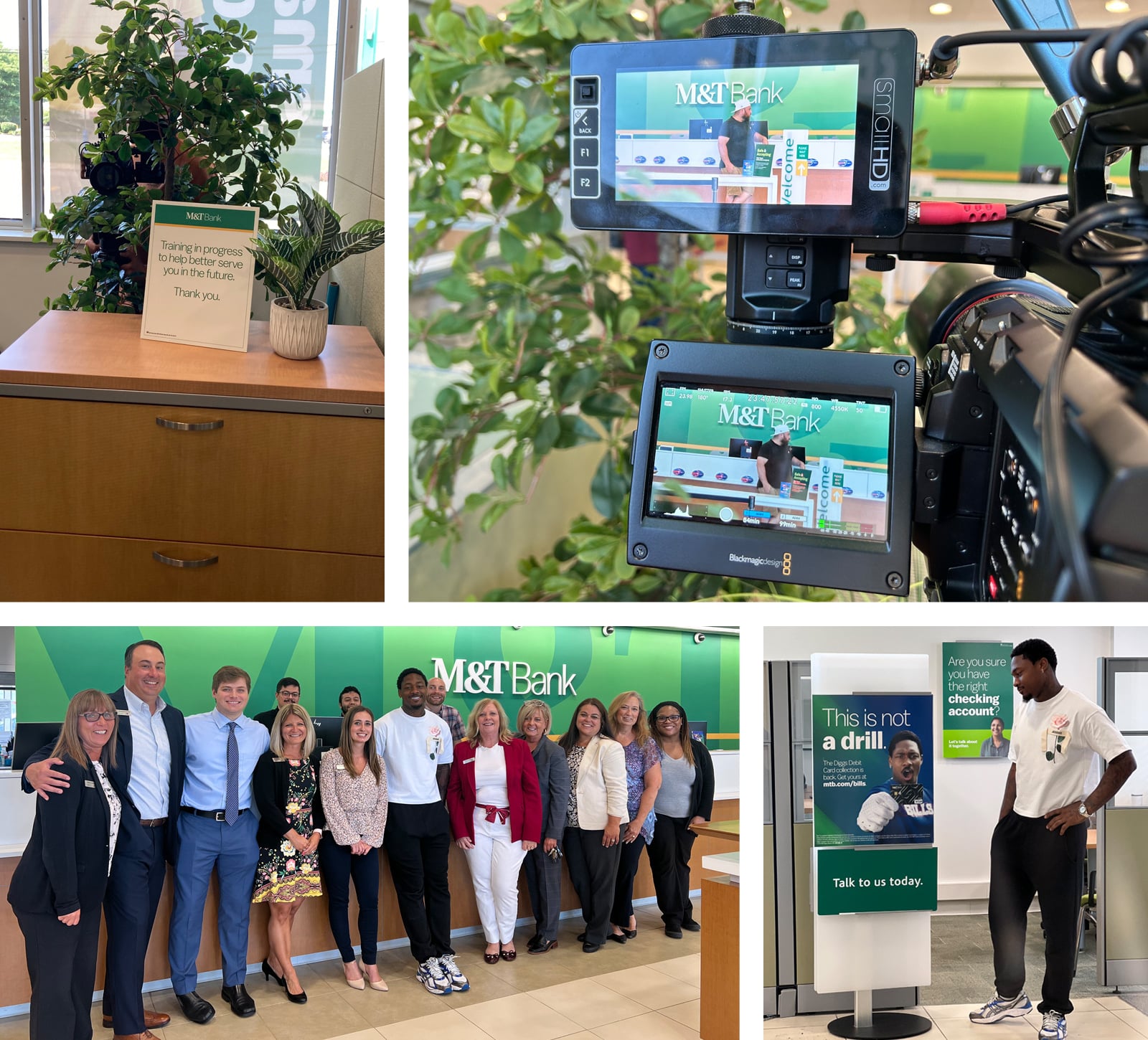 The most important press conference in sports history.
While the crew at the branch wrapped, a crew at the stadium was all ready for Diggs to walk in. First, we transformed the Bills Press Room with M&T branding and brought in 30+ of the biggest (little) Bills fans to create an M&T Kids-Only Press Conference. The kids asked Diggs all the questions you've wanted to know, like if he thinks Santa is a Bills fan or is a fan of unicorns. The plan here was to have these light-hearted press conferences run throughout the season. Our first one just went live and couldn't be cuter.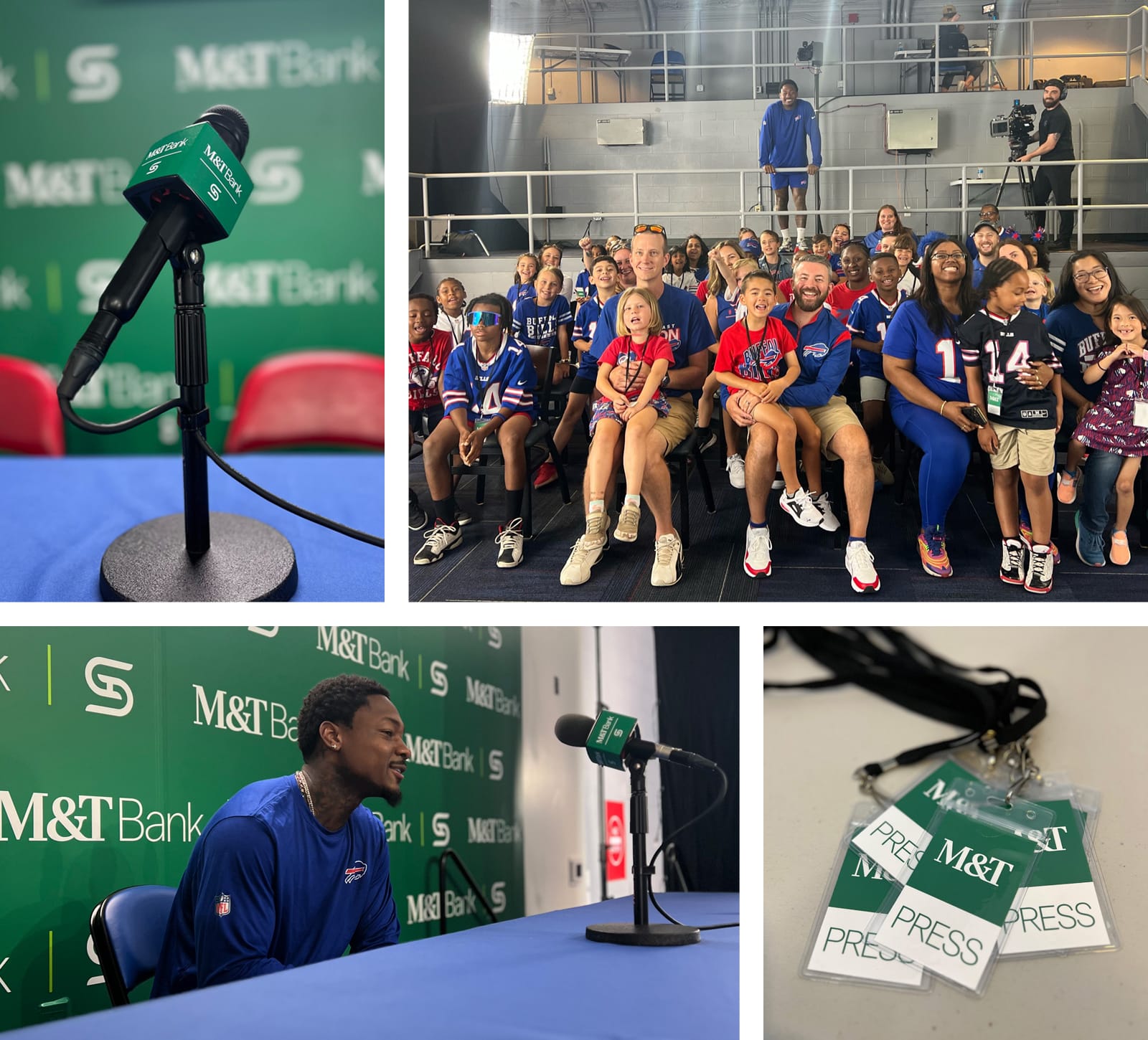 Extra sweet community plays.
After Stef took 20 to eat some chicken wings (true story), we headed up to the locker room to film Fan Feud – a spin on Family Feud in which Diggs tries to guess what fans' top answers are to prompts like, "What do fans bring to a Bills game?" We'll be dropping episodes throughout the season, but here's the first!
While up in the locker room, we got Diggs to do a few quick shout-outs to M&T employees. These will be shared to boost employee morale internally throughout the season on their company-wide communications platform.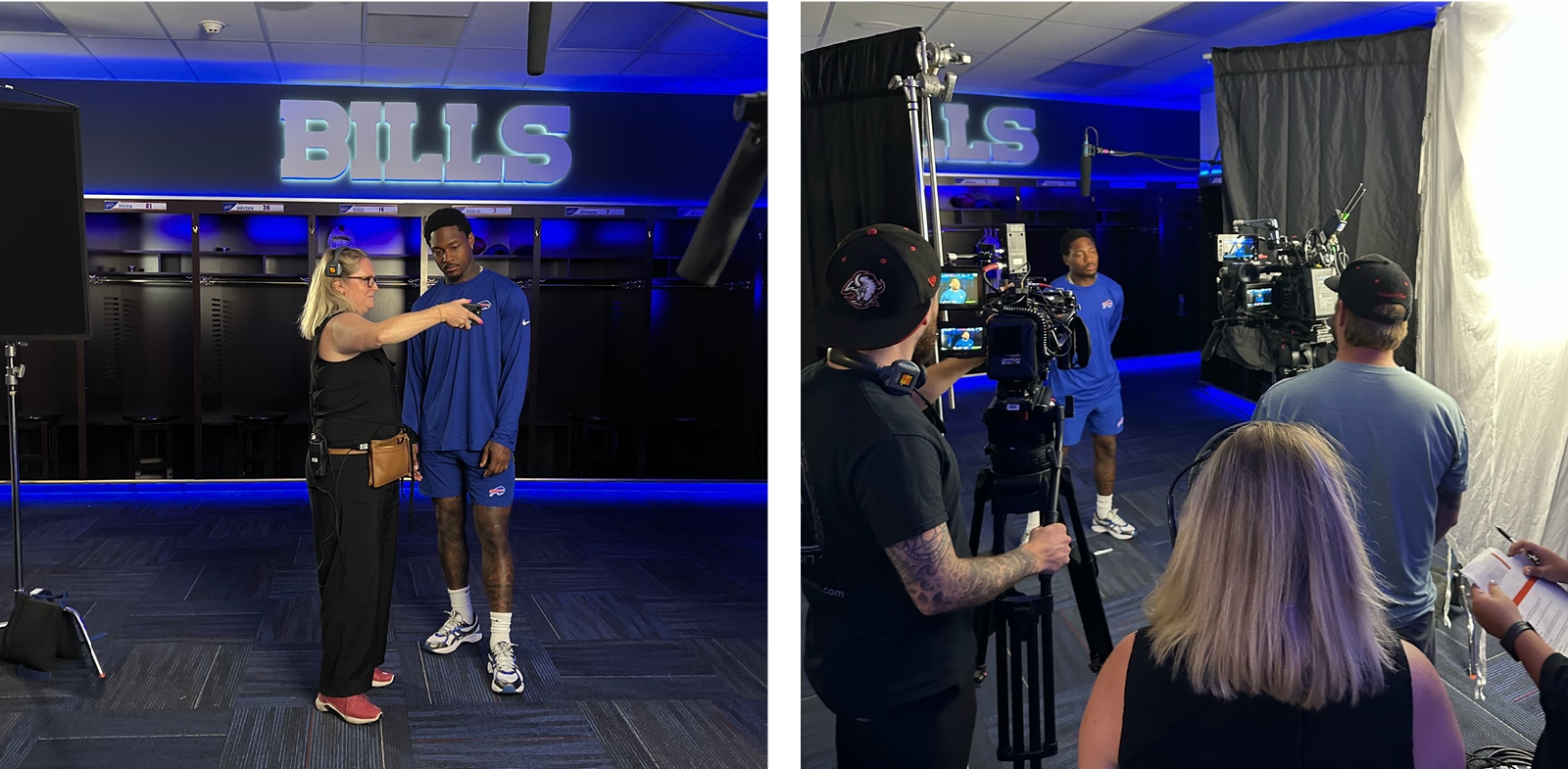 Next up we headed out to the field where we captured Diggs sharing clues for a fun new spin on capture the flag. Diggs autographed some M&T Billieve Together flags that went viral last season and fans will have the chance to find them at M&T small businesses throughout the season. And if you're spotted with your flag at the stadium, you'll have a chance to get upgraded too!
Finally, we wrapped the day with a few interview-style questions asking Diggs about his success and the value he finds in his partnership with the bank.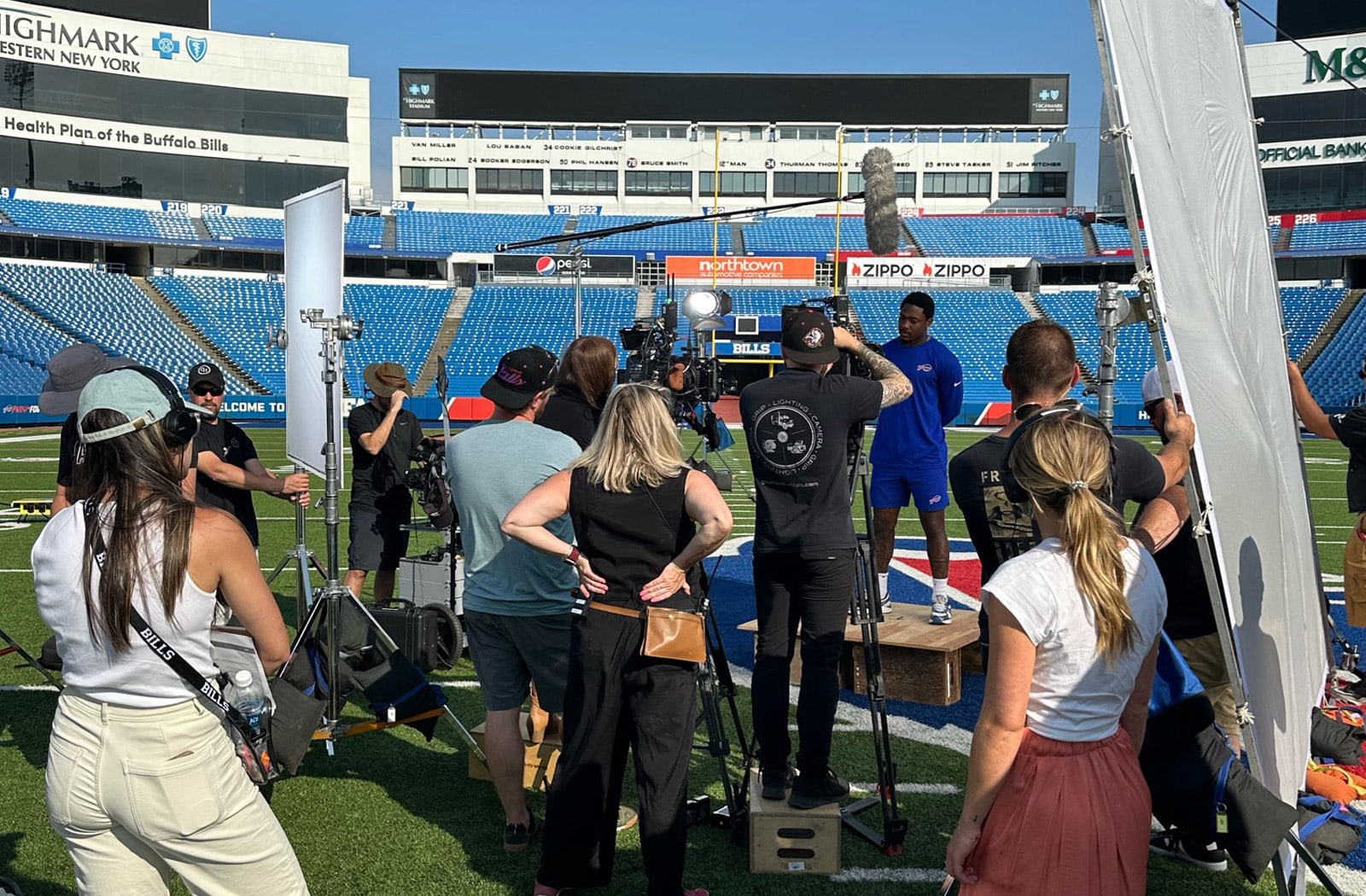 Using every second to the fullest.
Like the game, every second counts when scoring content. We set up an autograph-signing station for Diggs to go through while our crew was setting up new locations – giving M&T hundreds of giveaway materials for the season. And if you're spotted with your flag at the stadium, you'll have a chance to get upgraded too!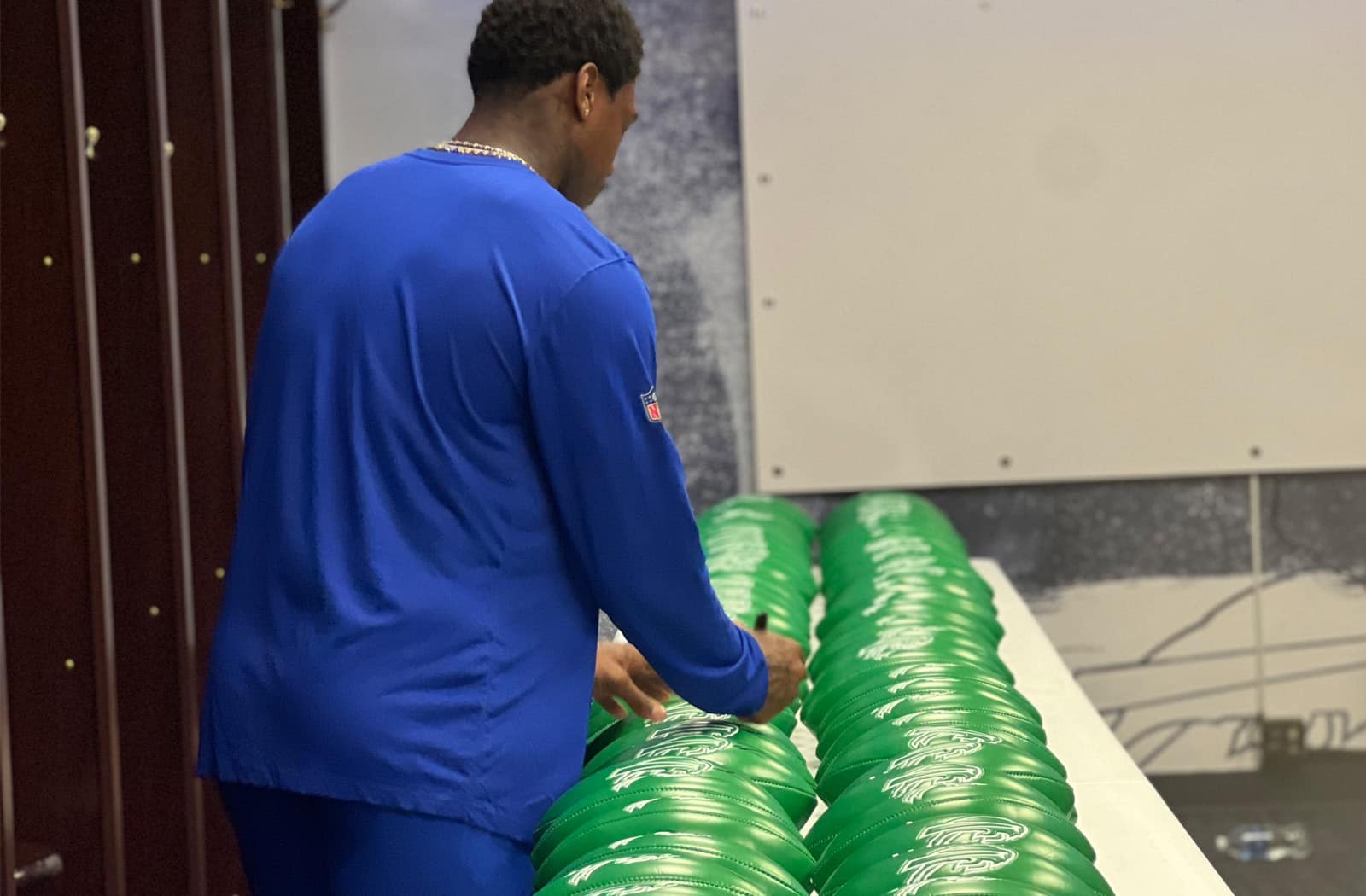 We also did a photoshoot and interviews with the parents of the kids' press conference kiddos for other marketing efforts like billboards and digital ads.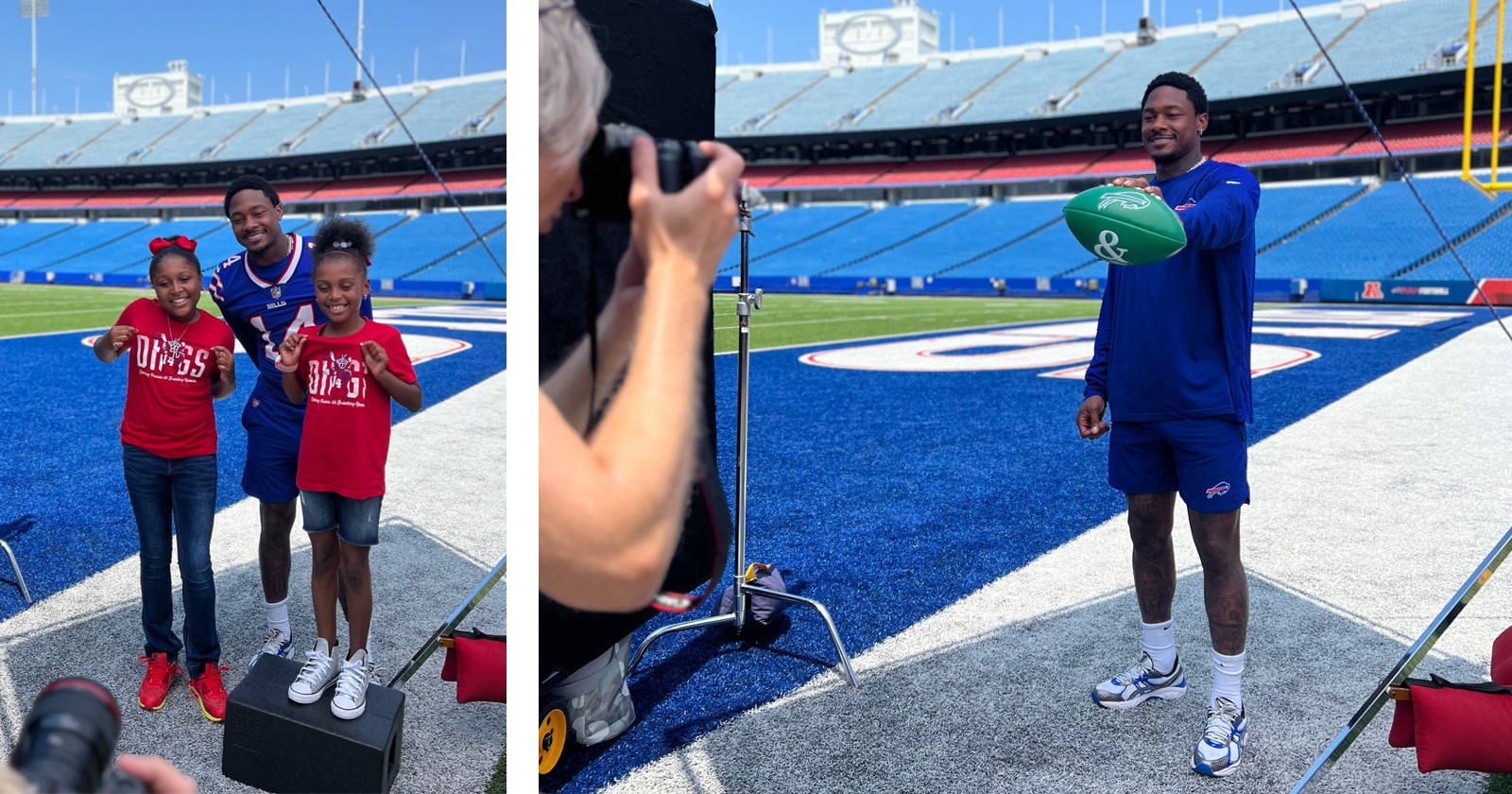 Plus, our Reels Queen, Simone, was grabbing BTS content all day long.
Needless to say, we got everything we needed from Stef and more in one day. It was truly a touchdown.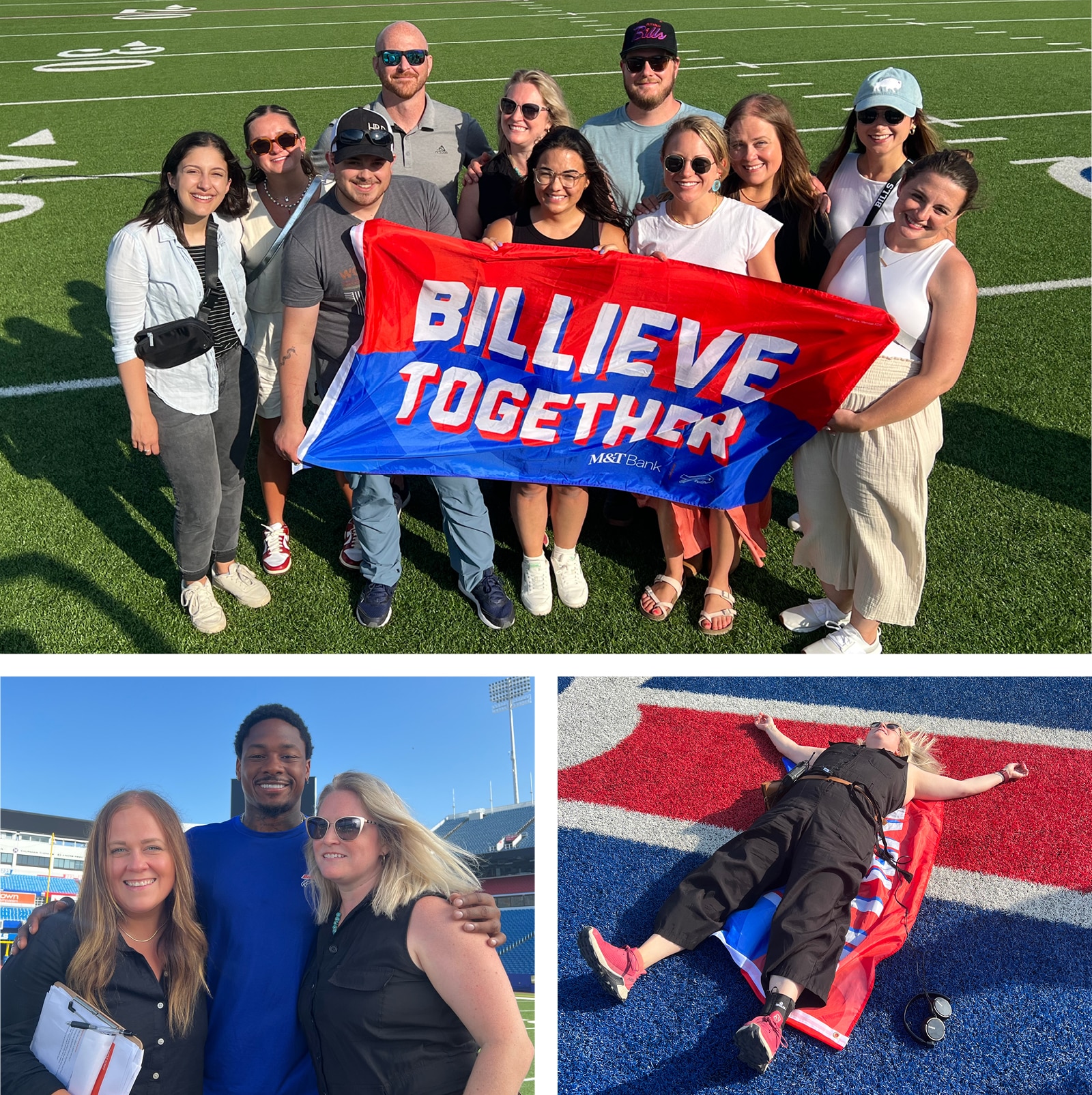 With M&T Bank being the Official Bank of the Buffalo Bills, there's so much more marketing around this partnership than what we've mentioned today. In fact, if you're local, our team created most of the M&T/Bills work you see at the stadium and on billboards, social, and TV.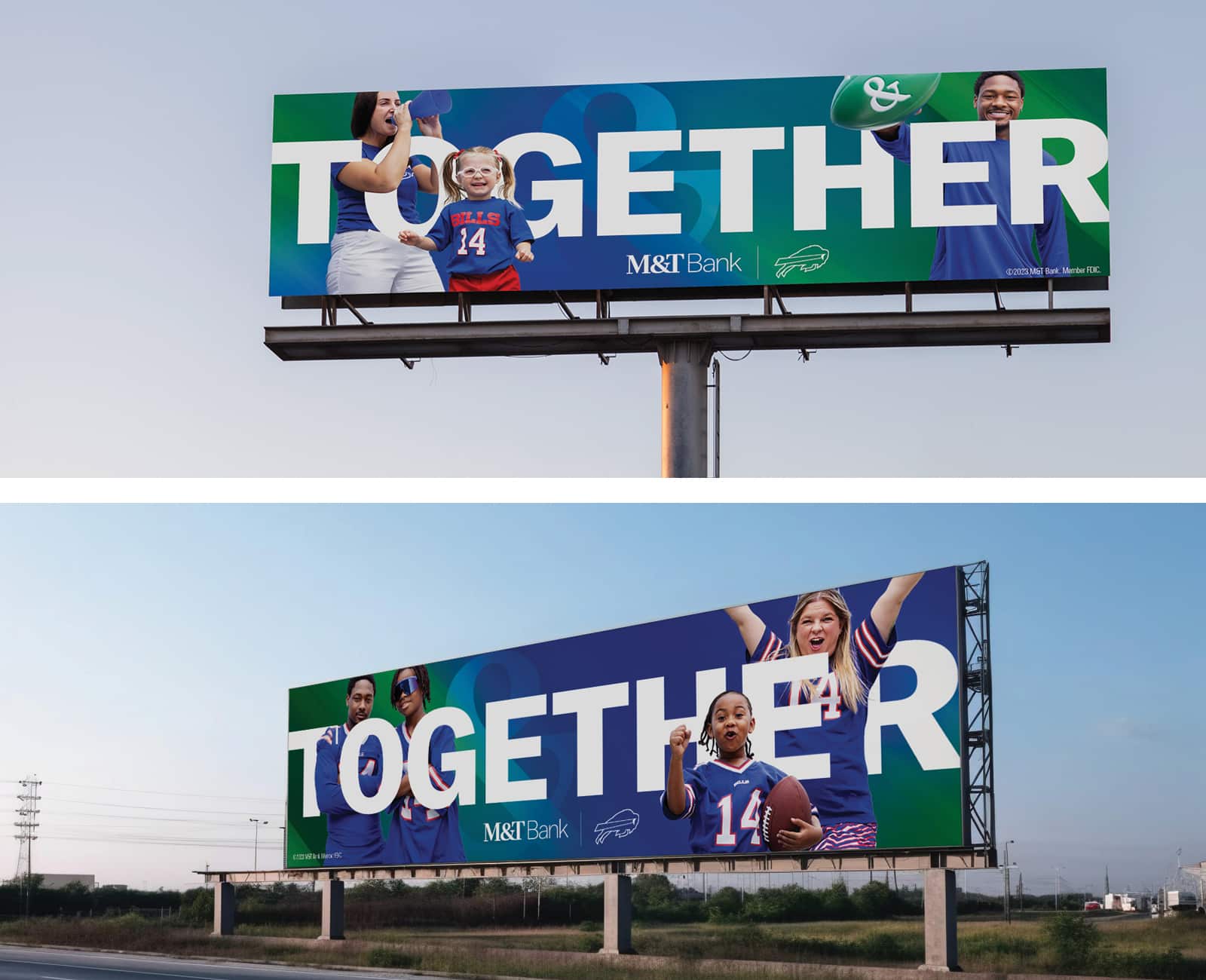 But that's a story for another blog.
Need a new game plan for your brand? Let's strategize.
Go Bills!