2022: Rewinding the year because that's how I remember things.
The following was written on December 5, 2022, and is a mix of thoughts that occurred the date indicated (*) and reflective observations about the date indicated (**). Enjoy. Or don't. Whatever you want. I'm not the blog police.
Like four hours ago.*
Holy hell, I have to start writing that blog article that my mom and my mom's friends so enjoy. Will it just be about COVID again? Likely not. This year was definitely a transition out of that pandemic that so gripped and defined 2020 and 2021. But what the nuts else would I write about? The upcoming holiday party? The Bills? The process of writing this thing? Probably.
Earlier today.*
Our holiday billboard went up today on the 190. Hooray! Love this tradition we started last year of sending this as our email holiday card to clients and friends and especially love how weird this one is this year. But cheese frosting is just blue cheese, ain't it?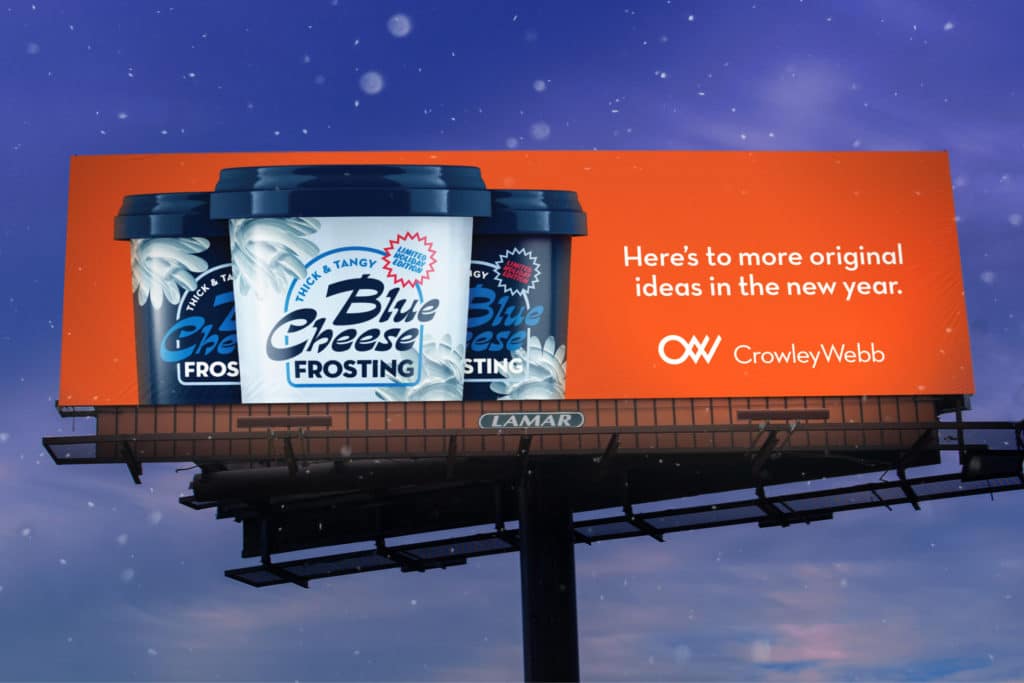 Last night.*
Every team we wanted to lose lost? The Bills are in first again and likely unstoppable! At the risk of jinxing things, they are likely going to win the next 17 Super Bowls in honor of Joshy's number.
Thursday night.*
Sure the Bills won, but all these other teams need to lose. What kind of losers need other teams to lose? Seriously.
Thanksgiving.*
It's Thanksgiving already? Fourth of July was like five minutes ago. But I guess now's as good a time as ever to think about all we've been through this year and realize how fortunate we really are as an agency. I mean, when we left for COVID (there's that dirty word again), we were 85 stunned people wondering not just when we might be back to 268 Main Street but if at all. The future was nothing short of foggy bleak covered in a thick layer of acid reflux. And here we are today. 145 people stronger than ever. Another incredible year behind us and the first in-person holiday party in three years right in front. Key departments like video, analytics, and media keep growing. My pal Biagio is our new CMO! CW is 36, which is about a decade older than most of our people. Things are not only good, they're gd great. So, yes, I am thankful. Thankful to be at this agency surrounded by amazing people who do equally amazing work for super clients.
Pass the turkey and bourbon!
Thanksgiving. At halftime.*
Boy this team stinks. We are going NOWHERE.
November 16.**
Big, exciting shift for our agency! After having long been known as an art-based firm with more creative awards than can cover a parking ramp roof (We did this once. Don't ask.) we are now actively touting our science muscle that we've been flexing and toning for almost a decade now. What's this all about? Well, media and analytics, silly. The beautiful and perfect marriage of data sciences that inform the vast majority of our marketing decisions – from where best to find our audiences to what they're thinking to how they'll react to different messages. (I bet all the nerds are drooling right about now.) This is truly powerful stuff, and you bet it's pre-emptive.
Who's at the helm? Well none other than our newest chief media officer and CW veteran, Biagio Patti. He, along with SVP of Data Analytics, Andrea Berki-Nnuji, will continue to focus on our growth in this realm. Together, they'll work with our internal agency teams (analytics, creative, and PR) on how best to prospect and, ultimately, make existing and potential clients alike aware of our incredibly valuable tools, including Sample, our very own consumer panel.
If you don't agree that numbers are cool, then maybe you're the square. We'll just be over here at the cool table, laughing and calculating and such. Wearing sunglasses and leather jackets. Data!
October 31.*
It's Halloween already? Fourth of July was like four and a half minutes ago.
September 19.**
Bills home opener. Fresh off a Week 1 win, we descended on Orchard Park in ridiculous weather (it was raining sideways) for what was more than a game. This was the event at which tens of thousands of WNYers would gather to celebrate the lives that were cut short so tragically back in May. And under one simple yet so powerful mantra: Choose Love. It was on t-shirts. It was on all of our minds that day. It was on a mural created by our friend Patti Thomas. In the face of unthinkable evil and hate, the only way to respond is with the exact opposite. To be better and act as shining examples of what it means to rise above. As I stood in attendance and listened to wonderfully stirring words from Bills legend Bruce Smith that day, I couldn't help but be moved by how our city responded to vile racism. Four months earlier, we acted. We took what had happened as an opportunity to help our neighbors and be examples of what it means to be anti-racist. Yes, this was far bigger than the game of football. This was one of those moments one never forgets. For all the right (and horrible) reasons.
Labor Day.*
It's Labor Day already? Fourth of July was like four minutes ago.
August 5.**
After a year marked by COVID (there's that dirty word again, again) peaks and valleys, we were finally able to gather in person at the agency and celebrate the life and legacy of one of our founders, John Webb. It was a special night filled with Sinatra, sentimental stories, laughs, and, of course, a special toast of Jack Daniels. More than one person who knew John intimately remarked how happy this evening would have made him. Certainly not for the fuss we were all making over his accomplishments, but for the sense of merriment that filled our Local86 this evening just days from what would have been his 93rd birthday. For the fact that the agency he founded was thriving into its 37th year of existence. And definitely for all the Jack that was flowing this special night.
Cheers to you, John.
July 4.*
It's July 4 already? Last Fourth of July was like 10 minutes ago.
June 24.**
Women's rights, and therefore human rights, took a big fat hit to the reproductive organs when our Supreme Court in its infinite wisdom overturned Roe v. Wade, ending 50 years of federal abortion rights. And a certain amount of adult sensibility in this country for all intents and purposes. Politics and religious beliefs aside, this was a dark day in our nation. Abortion is science. Abortion is healthcare. Abortion is sometimes lifesaving. And with one simple, yet landmark 5–4 ruling, it was no longer protected federally. This not only allowed states to outlaw or severely restrict this right that had been in place for half a century (to date, 13 have done so), it sent a clear message that the highest court in our land wasn't so much for justice as it was for a few to dictate what's right and wrong for millions, instantly and wrongly hurting tens of thousands in the process. Did I mention this was a dark day?
June 24.**
Not at all coincidentally, we swear, this dark day was also somewhat of a bright one for our agency. For the first time since 2019 (you know why by now), we gathered a proper group – all of us, in-friggin'-person – to have our annual agency retreat.
This is a day we reflect on the past year, do a little bonding, and have a lot of fun. This year's theme, which was supposed to have been the theme of 2020's retreat that never happened, was diversity. And of course it's as important today as it was in 2020. Sure, we're getting better, but we still have a way to go. To help us along, we invited M&T Bank's Chief Diversity Officer Glenn Jackson, who spoke passionately on creating and sustaining a more diverse workforce and how it's important for every employee to embrace the necessity of this. We were also treated to an incredibly moving rendition of Better Days by some of our very own employees all donning Choose Love shirts.
We connected, shed some tears, had some needed laughs, and reflected. We were together – which in and of itself was the biggest joy of the entire day. And that was what we needed when we all got notifications on our phones regarding what the Supreme Court had done, and our hearts sank.
May 14.**
This was surely the day and the event that will horribly define 2022. At least in WNY, but likely the entire country. This was the day hate came to Buffalo and took 10 beautiful, innocent lives. As it's unfair and trite at this point to put myself in anyone else's shoes who was affected by this, I'll only speak to my own experience.
Going back to Columbine, I've had an insatiable disdain for guns and the idiotic gun culture in this country. Granted, I think they're fine for hunting and law enforcement. But the idea of someone owning an AR15 makes about as much sense to me as someone owning a rocket launcher or a tank. It's just stupid. And with every mass shooting that seems to happen almost weekly, I grow more and more angry. And I knew it was only a matter of time before this utter madness came to my city. And it did on May 14.
A friend texted me that there was a shooting at a Tops. Expletives went off in my brain. Then the news slowly came out who was murdered. And why. Suddenly this was on another level. My brain went blank. I went numb.
This motivated murder was far worse than some senseless, random act. Ten amazing people had their lives ended because of the color of their skin. Read and think about that again. And don't ever forget it.
Celestine Chaney, 65; Roberta A. Drury, 32; Andre Mackniel, 53; Katherine Massey, 72; Margus D. Morrison, 52; Heyward Patterson, 67; Aaron Salter Jr., 55; Geraldine Talley, 62; Ruth Whitfield, 86; and Pearl Young, 77.
Don't forget these people either. The absolute least we can do is remember their beautiful lives before their unimaginably tragic deaths.
But many in WNY and beyond did more to honor these victims. Many, including myself, had no idea what this Tops meant to its neighborhood. It was a community hub and the single source of nourishment for so many. So many relied on this Tops in what's otherwise an area of food apartheid (in and of itself a tragedy). And it was suddenly taken away like these ten lives. So many of us responded with donations, hearts, and hands. We volunteered in droves to get healthy food and essentials that so many of us take for granted into the hands of those who need them. It was the right thing to do and still feels like so little.
This day easily still feels like the 9/11 of 2022.
April 4.**
This was the day we looked back to 2002 when a little startup opened its doors to help pharmaceutical companies recruit patients for clinical trials in the hopes of bringing new drugs to market. And oh what a ride it's been since. We had sumo wrestlers washing windows. We mailed full-size ficus trees to sponsors. We fed a steak to a bear. We had a hand in recruiting for the vaccine trial that helped lead to the end of the pandemic. We worked on more than 500 trials, partnering with more than 70 sponsors. We recruited for more than 200 diseases and had campaigns in more than 50 countries around the world. We helped enroll thousands upon thousands of patients.
Today, Praxis is as much a part of Crowley Webb as Joe Crowley or John Webb. The leap of faith that was the purchase of this client in late 2010 seems like the no-brainer of the century today. Most of that is, of course, thanks to Tricia Barrett's leadership. The work we're doing is truly special in an incredibly specialized industry. And it's only getting better. Here's to the next 20 years of Praxis.
April 1.*
It's April Fools' Day already? Fourth of July will be here in like five minutes.
March 4.**
We had another stellar night at the local ADDY award show. Not only did we take home a pantload of awards, our very own Rosalind Cardone was aptly named this year's Future Star. Don't get any ideas. We also took home AAF Buffalo's first-ever Mosaic Award, which honors a company or individual who is actively working to create a more inclusive industry through creative work advocacy and company-wide initiatives, for our Chroma initiative. Always fun nights those ADDY nights.
February 14.*
Pitchers and catchers report to training camps all over the country! Also, Valentine's Day already? Fourth of July will be here in like six minutes.
January.*
Well, this is going to be a big year. Jeff Pappalardo's last as chief creative officer of Crowley Webb. When I think about this next chapter for our agency, I'm excited, sad, giddy, anxious, terrified, cold, hot, thrilled, terrified, itchy, anxious, terrified, and excited all at the same time. But before I get ahead of myself, I should consider all Jeff has meant to this agency.
Jeff came to us in 1994 after an already successful career in NYC. Not many make the move in the direction he did on the I-90, but boy are we glad he did. I became part of the agency five years later, but it was already clear Jeff was a pillar. Back then, we were only about 30 people, but few were more popular than Jeff. Everyone gravitated toward this guy who seemed to light up every room he entered. And he was NEVER short on ideas, no matter if he was on a project or not. Those he wasn't directly involved in were often lucky to receive his patented "Lob-alardos." So I was honored when he selected me to work with him on a highly visible project for M&T Bank in 2003.
Since then, Jeff's been an invaluable creative partner, a mentor, a big brother, a father figure, and a true friend. I've adored working with him and cherished every shred of advice and insight he's ever given me. He's encouraged me to take risks and embrace failure. He's let me run with ideas he's not thrilled with because he trusts me. Which is perhaps the greatest gift he's ever given me aside from the beer advent calendar he left on my desk last month.
If I were to pick one person to model my career after, it's Jeff. And I really don't like golf. So here's to his big year of our transition and what's to come after. He believes I'm ready, so I have to believe it too.
January 6.*
Well, what do you know? No one tried to overthrow the government this year. Pretty cool.
January 1.*
New Year's already?? What's next? Fourth of July???