Employee spotlight: Andrea Berki-Nnuji.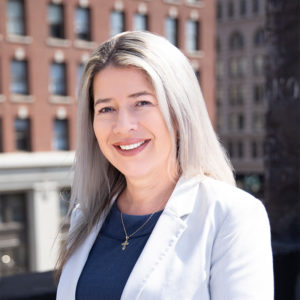 You don't have to spend much time with Andrea, our director of analytics, to gather that she's a proud and involved mom, thrilled about her recent US citizenship, and dedicated to her role at Crowley Webb and to the field of analytics. Andrea joined us in 2013 and, since then, has made an impact on our agency, our clients, and her hardworking (growing) team of six rock stars.
Andrea is responsible for working on campaigns all the way from conducting preliminary research to documenting robust results. Not only is she certified in predictive analytics from the University of California, Irvine, but she also achieved this remarkable distinction with English as her second language. She's a rare, talented gem, and we're lucky – to say the least – to have her on our team. Recently we sat down with Andrea to learn more about her role and the experiences she's had since joining the agency. Take a look.
---
What do you bring to our analytics team?
Well, I was fortunate enough to have started the Crowley Webb analytics team. I was the first hire back in 2013, and our analytics practice has been growing ever since. It is the best and most rewarding challenge and experience of my life. What do I bring to the team? Steady leadership, analytical thinking, and hard work for sure – but you should ask my team what they think.
What has been your coolest experience with data analytics and social listening?
I have many; however, my definition of "cool" is probably different from the reader's. Remember, I work with data. I find it cool when we identify statistically significant differences between audience segments. It's also cool when we rebrand established brands or change their identity based on findings from primary quantitative research. The coolest is when we can recruit a rare patient population for a clinical trial on time, as projected, using predictive analytics.
What do you like best about what you do?
Telling the story of the data. You never know what you'll find before you start digging. Working the data until we have that aha moment. I love uncovering the unknown.
What advice do you have for emerging talent in the field?
Continuous education. Never stop learning. Be proactive and always look for a better, more efficient solution out there. Here at Crowley Webb, we always say, "Good enough is not good enough."
What would the title of your autobiography be?
The American Dream.
What's the first thing you would do with $1 million?
Make an investment for my kids, get my dream house, and go on a dream vacation if there was any money left.
What's the last book you read?
Becoming by Michelle Obama.
What makes you a great guest at a cocktail party?
I will find my own entertainment, so you don't need to worry about me. I also bring good wine.
Could you tell us your favorite projects you've worked on since joining Crowley Webb?
No, I love them all. Okay, almost all of them.
While we're looking forward to seeing what Andrea and the "A-Team" have in store for 2019, take a look at some of the exciting work they've done so far.