Community spotlight: 11 Day Power Play.
We are excited to announce the launch of our Community Spotlight series, where we take some time to highlight a few of our partners that are doing great work in our hometown. For our first post in the series, we're looking at the 11 Day Power Play!
When founders Mike and Amy Lesakowski first came to us in 2016 with an idea to break the record for the world's longest hockey game, we were excited to lace up our (creative) skates and get to work! Over the past few years, we have been fortunate enough to watch this event grow to more than 2,500 players and hundreds of volunteers coming together to fight cancer. From developing a name and a logo, to designing the coolest new mascot in Buffalo, we have loved being a part of such an amazing cause.
We recently asked Amy Lesakowski a few questions about the great work this organization is doing and what the future holds for the 11 Day Power Play.
Why did you start the 11 Day Power Play?
Following my diagnosis and treatment for breast cancer in 2009, I was intent on supporting the cancer cause. After multiple surgeries, chemotherapy, and a three-year clinical trial, I found my purpose. I participated in fundraising events in WNY, raising more than $30,000 with the help of friends and family to support various cancer-related causes. After experiencing cancer treatment and the side effects involved, I wanted to do what I could to prevent anyone else from having to go through it. Michael was proud of my fundraising efforts, but he believed that the game of hockey could and would raise significant funds in a hockey town like Buffalo. Michael was born and raised in Buffalo and grew up playing the sport he loved. He did some research and found the World's Longest Hockey Game event played annually in Canada. This intrigued him immensely, and early on he said, "we will do this someday."
Fast-forward to 2013. Michael's mother, Evelyn, was diagnosed with small cell lung cancer. She battled an intense cancer treatment and sadly was taken from her family and friends in 2016. Michael and I decided we needed to make an even bigger effort to support cancer research. Michael scheduled ice time for 11 whole days at Harborcenter and reached out to people we knew for help to get the world's longest hockey game off the ground. Crowley Webb helped us by creating our brand, including the event name and logo. Finally, in the summer of 2017, 40 guys played the world's longest hockey game. A game that never stopped for 251 hours, three minutes, and 21 seconds. The Buffalo community and beyond embraced the event, raising $1.2 million for cutting-edge cancer research at Roswell Park Comprehensive Cancer Center.



How has the event grown or changed over time?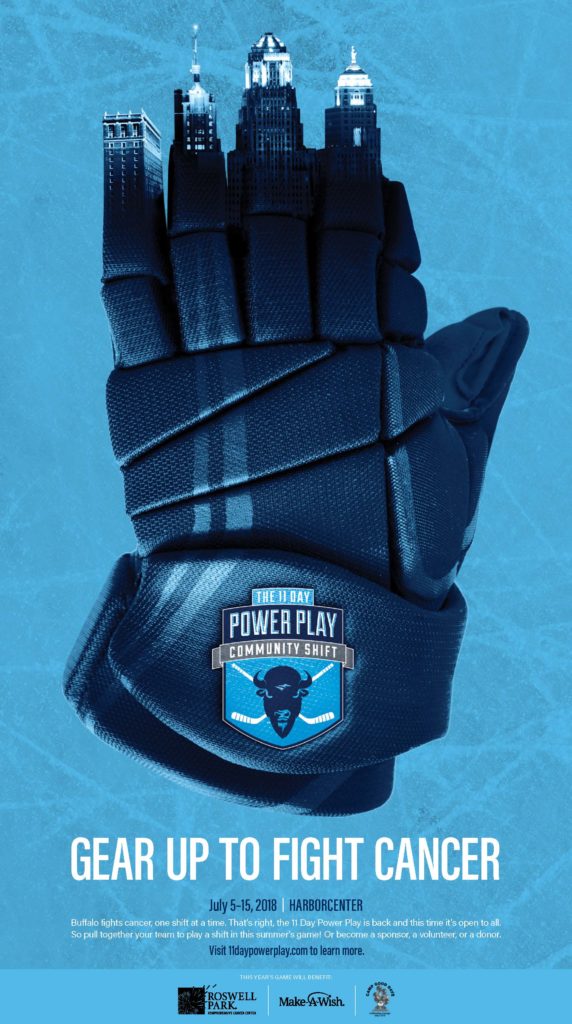 After the success of the inaugural event, we knew we couldn't stop there. We had to continue to put cancer on ice! After receiving incredible feedback and multiple requests to play in the first event, we decided to invite the community to play in a similar 11-day marathon game. We invited male and female hockey players of all ages and backgrounds. With two new teams taking the ice every four hours, we were able to recruit more than 1,500 players to take part in our fight against cancer. In 2018, the 11 Day Power Play Community Shift was a success, raising awareness and $1.28 million for cancer research and wellness programs in Western New York for Roswell Park, Make-A-Wish WNY, and Camp Good Days. In 2019, we have grown to 2,500 players.
What else is your organization involved in?
The 11 Day Power Play supports cancer research and local families battling cancer because we know that cancer affects not only the patient but also the entire family. We have raised approximately $3.5 million in our first three years of existence. In 2018, a portion of the funds raised during the event sent 100 kids affected by cancer to Camp Good Days and granted 20 wishes to local families through Make-A-Wish WNY. In the last two years, the 11 Day Power Play organization has raised nearly $2 million for cutting-edge research at Roswell Park.
Why should people donate to the 11 Day Power Play?
The 11 Day Power Play is a true grassroots organization making a huge impact in our community. We are primarily supported by volunteers, many of whom come from our City of Good Neighbors. We are a true community event benefiting local families and an incredible cancer hospital and research facility right in our own backyard. The donations received by Roswell Park are considered seed money that the institute can leverage for larger grants. For every dollar we raise, Roswell can leverage up to an additional $13 for critical research.
What's next?
The 11 Day Power Play hopes to continue making an impact by pulling the WNY community together for a good cause. We are intent on raising awareness and more than $1 million per year to support cancer research and wellness programs locally. Stay tuned for new events and fun additions to existing events as we strive to continually improve and raise awareness and critical funds for the fight against cancer.


Okay, what about Petey?
Petey Power Play is literally a dream come true! We had a dream, and we asked Crowley Webb to design a mascot. We now have a welcome addition to our 11 Day Power Play family who can't be missed in a crowd.
To learn more about this great organization, visit 11daypowerplay.com and be sure to stop by Harborcenter July 5–15 and support those participating in this year's 11 Day Power Play Community Shift!