An X-perience to remember (X4 Summit 2023 recap).
What's the most important part of running a successful business? Short answer: people.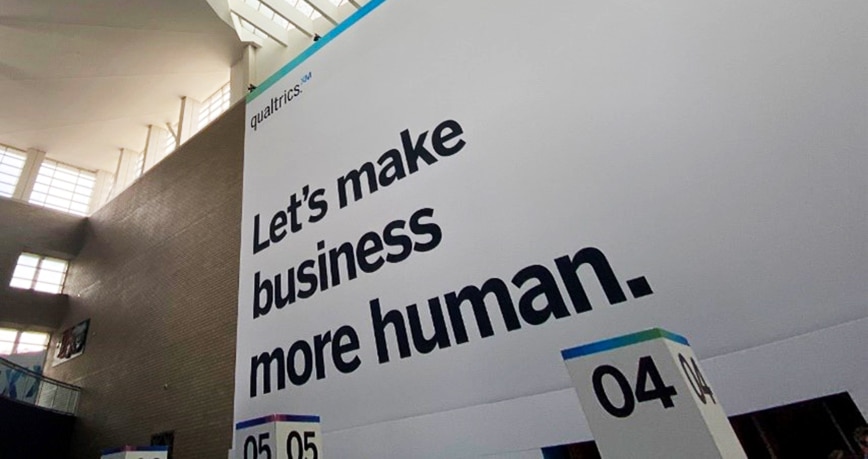 This seemingly simple idea was showered upon a group of us lucky enough to experience 10 keynotes and 100 breakouts across three days at this year's Qualtrics X4 Summit in Salt Lake City, where a towering banner proclaiming "Let's make business more human" greeted us at registration. For those of you not familiar with the X4 Summit, it serves as an in-person event dedicated to showcasing the many capabilities and offerings of the Qualtrics Experience Management (XM) platform, which our Analytics team relies on for a variety of market research and business insights projects.
Qualtrics is big on customer experience (CX), and boy did they deliver one at X4. Kicking off the event was a tailgate-themed welcome party (did somebody say Buffalo wings?) complete with a drum squad and five-time mascot of the year, the Utah Jazz Bear. Our second night concluded with a star-studded (looking at you, Derek Hough), street-style rap and dance fundraiser for cancer research, aptly named Fight Night. Finally, our X4 experience came to an end with the Warehouse Party, which included a food truck roundup encircling Tony Hawk and friends skating their hearts out on a half-pipe vert ramp before the ultimate entertainment finale: The Killers rocking out in front of thousands of (exhausted) research and business insights enthusiasts.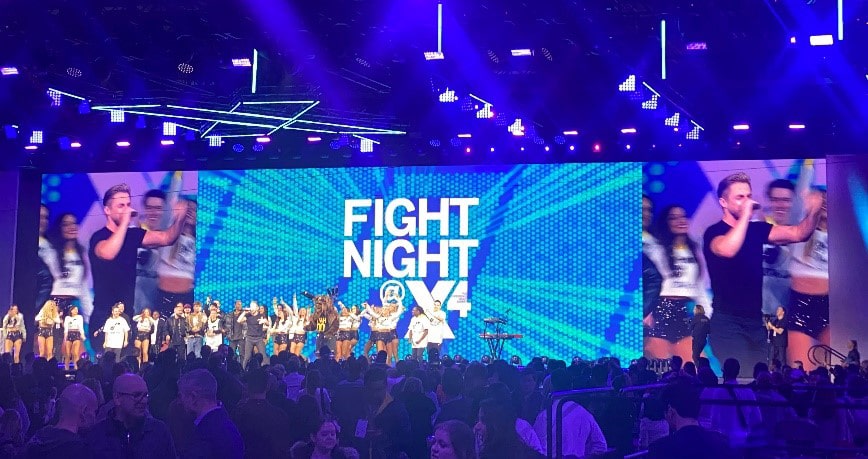 An experience? Yes. Yes, indeed.
As if all that wasn't enough, X4's primary pull – the practical knowledge, inspirational experiences, and real-world innovation – was made clear through the vast keynote speakers and breakout session offerings. From Nobel Peace Prize laureate Malala Yousafzai to renowned entrepreneurs Chip and Joanna Gaines, the theme of human connection reverberated through the Salt Palace Main Stage Theatre to reach 10,000 listeners. Oh, and a surprise Q and A from three-time Olympic gold medalist Shaun White helped demonstrate a fresh take on branding – with an appropriately fresh haircut to boot.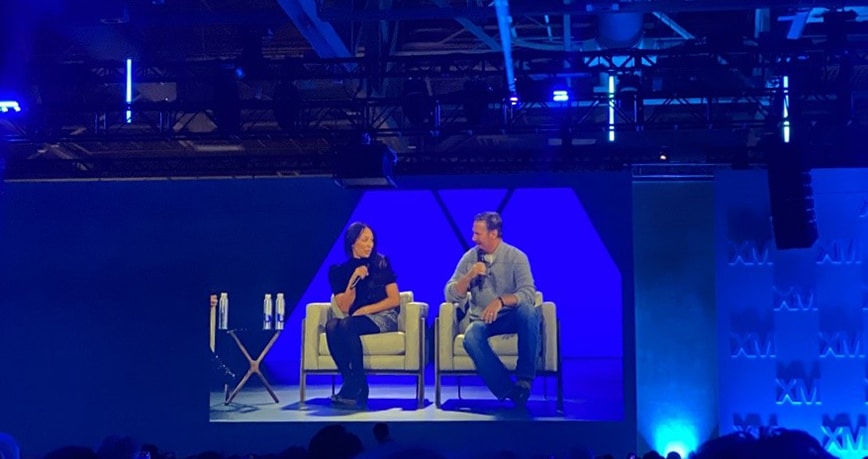 Many of the breakout sessions also stayed true to this central idea of keeping people central to business insights. Rick Mochulsky and Melissa Harrington from canned water company Liquid Death urged researchers to stop using the word "consumers" and to replace it with "humans" to ensure insights truly connect to what's important for business. Being flexible with numbers was also a lesson they passed along as "data can sometimes be a buzzkill." And the heavy metal–inspired water brand wouldn't be here if it weren't for taking risks.
And what would a Qualtrics conference be without learning more about the platform? We heard A LOT about the future of AI in XM research. So much so that many were even feeling those dystopian future vibes. The constant connection to every touchpoint of a brand (even at the front lines!) that is available means there won't be a single moment that is missed on a customer's journey, thanks to the XM platform. This hyper-connectivity means that companies will be better equipped to listen to the needs and wants of customers and employees and have tangible evidence of what is and isn't working for their humans. (See what I did there?)
To say what we experienced in Salt Lake City was immense would be an understatement. And it all couldn't possibly be represented in its entirety in a mere blog, but here are just a few of the speakers and additional interesting (and fun) takeaways from our jam-packed few days. Enjoy!
JD Schramm, communicator and entrepreneur
Effectively conveying research insights is a lot like writing a juicy, suspenseful novel. Viewer engagement increases when there is an issue or conflict paired with a sense of purpose resulting from the downstream resolution – which is but a morsel of the advice we received from this distinguished speaker!
Raj Sivasubramanian, voice of customer program manager, Airbnb
When working to improve customer experience, don't fall into a metrics-centric trap by merely creating and regurgitating graphs and charts, but be bold and use the voice of the customer via qualitative insights to drive action.
Beyond the Survey with Sara Ball
People usually want to share unstructured feedback, and it's our job to listen and apply it meaningfully.
Cheryl Grise, Americas industry and solution leader, EY
We must meet humans where they are, not on the channels we think they are, because we all fall into traditional demographics and norms less and less.
Mark Rober, Youtuber/former NASA engineer
Making the experience visceral for your audience will leave them remembering your message, and what says that better than being a part of a Guinness World Record–breaking moment?
Dr. Peter Lovett, dance psychologist
Take a quick dance break with your coworkers. It'll bring you together, and you'll all feel better for it!
Andrea Berki-Nnuji, SVP of Data Analytics, Crowley Webb
Having a "Dream Team" (a team dedicated to literally making attendee dreams come true) at a conference sets the bar for customer experience extremely high and helped make some birthday wishes come true for our fearless leader, Andrea Berki-Nnuji!
Here's some other things we learned:
Technology is advancing fast, and how we choose to use it will make or break us
Silent disco technology is a perfect pivot for large convention centers holding multiple breakout sessions at the same time but we aren't sure how we would feel about being one of the presenters speaking to rows of people wearing headphones
The Fisker Ocean is now on many of our wish lists
Chip Gaines is way smarter than his shows might have you believe
Salt Lake City brisket is top notch!
While we learned a lot (and had a lot of fun doing so!), we left the mountains of Salt Lake City with a sense of validation that CW is doing research that meets (or exceeds) industry standards. Our consumer panel, Sample (have you signed up yet?) is also already using several of the methods we learned about at X4, and we have some new ideas to make things even better in the future. But, we will be sure to continue taking advantage of events and opportunities like this to stay on the cutting edge of marketing innovations.