Employee spotlight: Mike Giraldo.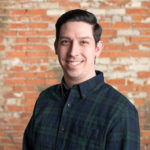 This Veterans Day, we wanted to recognize junior analyst and army veteran Mike Giraldo. Like a few others at the company who are not born-and-raised Buffalonians, Mike made his way to the Queen City because his wife grew up in the area and wanted to return home. However, unlike most of our team members, Mike brought the unique perspective of an Iraq War veteran who served as a staff sergeant and intelligence analyst from 2006 to 2013. Needless to say, with this kind of past experience, he's been a valued member of the analytics team since joining us this past January. According to Mike, "going from government work to an ad agency was a whole new world, even analytics-wise."
---
Why analytics?
I really enjoy looking at data and trying to figure things out. I know that may sound nerdy, but I enjoy looking at data and statistics, ranging from intelligence in the military to how users interact with a website to sports statistics.
Has your military experience helped you in your role at the agency?
Yes. During my time in the military, I worked on a very close-knit team, in which we all learned how to support each other to accomplish whatever task was at hand. I have been able to bring that with me to CW, but to be honest, it's my supportive and kind coworkers on the A-Team that have helped me transition into the advertising world. They understood that an ad agency was new for me, so they took the time to teach me and show me what it means to be part of the CW family.
What are the similarities between your current role and your previous military positions?
The aspect of being able to consume a ton of information and find an answer is the same, whether it's trying to find bad guys during deployment or seeing how people engage on a website now. If I had to find one other similarity, I'd say they both involve tracking movement. We used to look for where these rogue actors were coming from, but now it's about finding which regions users are engaging with our websites.
What inspired you to enlist?
Growing up right outside New York City, I was a freshman in high school when 9/11 happened, and it had a huge impact on me. So I guess out of patriotism. Also, I initially enlisted to help pay for school. I figured if I didn't like it, I just wouldn't reenlist, but hey, at least I'd have money for college. But I joined and I enjoyed it, so I reenlisted for another four years. I got out when that second enlistment ended, after I started to get worn out.
What's your proudest accomplishment during your army career?
My job as an intelligence analyst was to help find the "bad guys" and help prepare the mission to retrieve them by sifting through vast amounts of intelligence that other troops helped gather. We would review and say, "Here's where the (terrorist) network is located; this is where we need to move." So, we'd go in and capture them, and those missions are probably my proudest accomplishments during my deployments. I was able to see the success of my hard work, which is the best feeling. Being able to say, "Oh, I was right," is pretty awesome.
What was it like jumping out of a plane for the first time, as a member in the 82nd Airborne Division?
I've had more than 30 jumps. The first time you jump out of a plane, it's exciting! You don't know what to expect. After that, with time, you learn what to expect and start to think about what can go wrong – then it gets scary. The first time I jumped, I didn't realize how fast I'd hit the ground, and then every time after, I would complete a jump and think, "Well, that hurt."
Would you like to talk about your deployments?
My first deployment was from Thanksgiving of '06 to Valentine's Day of '08 during the 2007 surge in Iraq. We had the chance to create new relationships during this deployment, which allowed us to gain the trust of civilians. My second deployment was when we were closing out Baghdad.
But to speak to the deployments themselves, I made lifelong friendships. I can still call the friends I made during that time and we pick up like nothing's changed. That's where that idea of brotherhood or sisterhood comes in. We went through something together, and that experience has bonded us for life.
What was your favorite way to spend free time when you were deployed overseas?
When I was deployed, there were really only four things to do when I wasn't working 18-hour shifts: I slept. I ate. I worked out. And I watched stuff. At the beginning of my first deployment, my buddies and I would watch movies and share or swap DVDs. By the end of it, when we'd changed to 12-hour shifts, I preferred to watch TV series because they had more content and would take longer to watch, whereas a movie is done after two hours. During my first deployment, The Office was super popular, so I watched a lot of that.
Oh, so you appreciated our Halloween champions this year?
Definitely!
What would you want a civilian who has no personal experience with the military or with veterans to know?
I would recommend having a conversation with a veteran to learn. Someone who has no personal experience with the military won't always know how to approach this. For instance, nobody in my family had been in the military before I enlisted. So, as someone who didn't grow up knowing military stuff, I think it's important for others who don't know to ask those questions. But it's equally important to do so respectfully. A good rule of thumb is that if it feels odd to ask, it probably is. Just follow those conversational rules, and you should be okay!
How did you readjust to civilian life after you left the military?
I believe that I readjusted well during the initial transition. I think a lot of it was because I prepared myself mentally before the transition back to everyday life. I gave myself goals to focus on once I got out of the military, which allowed me to move forward.
What advice do you have for someone who might be struggling to readjust? Do you know of any resources that could help?
There are TONS of resources! I think another thing that helped me readjust was my involvement with other veterans at school. I encourage veterans who may be frustrated with things around them to reflect about why they're getting frustrated. And then I would also advise that they find a person whom they can talk to, whether it's a friend or a counselor. WNY Heroes, Inc., is a veterans group in the area that can provide additional resources. It's okay not to know all the answers. It's okay to ask for help.
Mike, from everyone at Crowley Webb, thank you for your service. And to all veterans, we appreciate you.
If you are interested in learning more about Mike's time in the military, check out this article from the Riverdale Press.